BELLEVUE RESIDENCIES
Bellevue Residencies Signs with BOI for High-Rise Development in Ja-Ela
Bellevue Residencies (Private) Limited recently signed an agreement with the BOI for the development of a luxury mixed development project in Ja-Ela. The proposed development will bring to life 600,000sqft of real estate that includes two luxury high rise condominium towers and a modern commercial complex, just a few minutes' drive from the Ja-Ela interchange of the Colombo Katunayake Highway.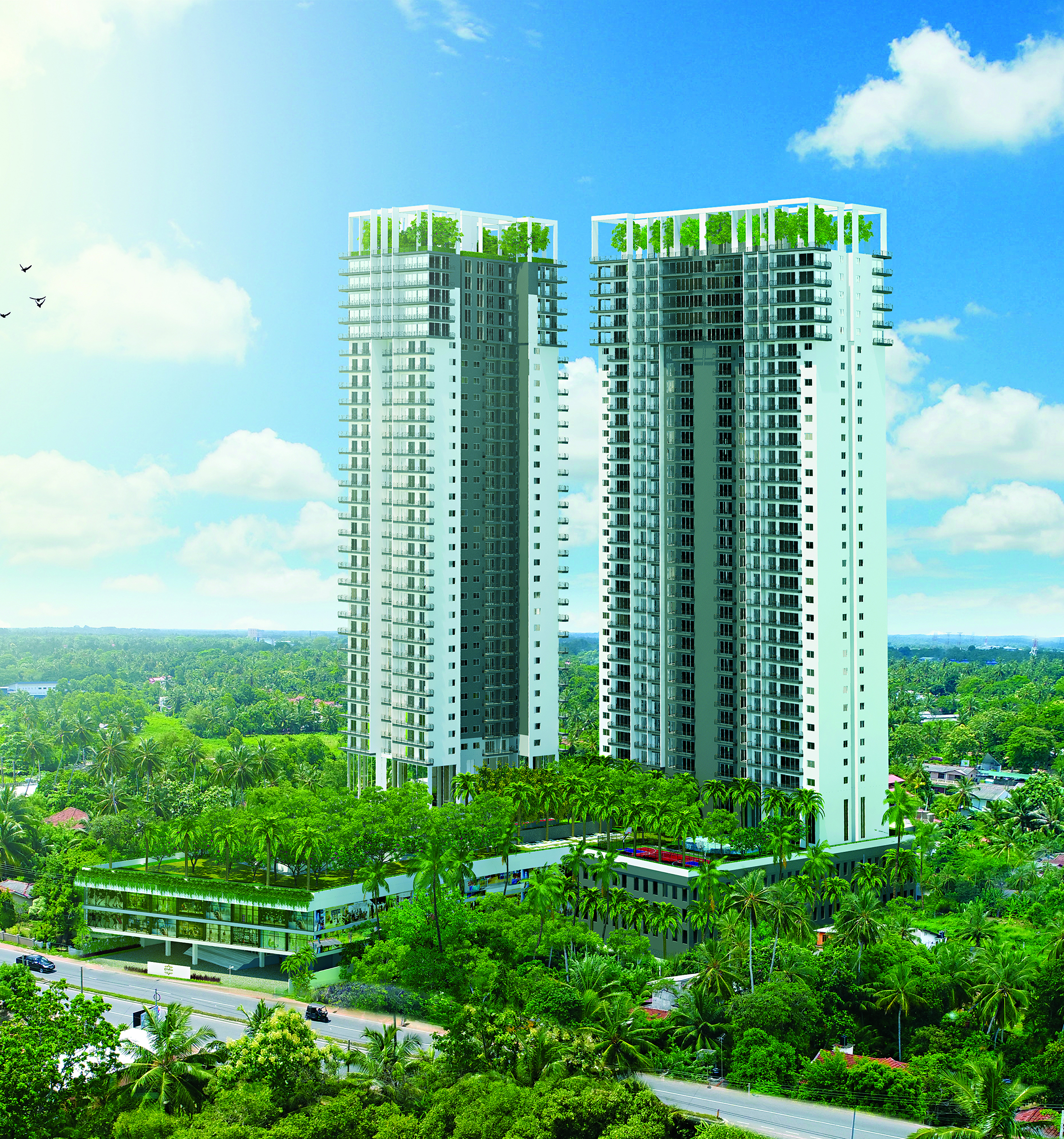 The project brings together Milroy Perera Associates and Maga Engineering Private Limited, the
architect and engineering team that developed the 47-storey Clearpoint Residencies in Rajagiriya, which has won multiple accolades as the 'tallest vertical garden in the word'. They have partnered with Riviera Holdings headed by Chandima Anton, who possess decades of experience in property development in France. The project is designed with the aim of providing affordable, yet luxurious housing coupled with the convenience of a modern shopping mall at their doorstep and is ideal for executives and businessman alike. While being located very close to the capital city of Colombo, the building is also bound by the Indian ocean, the serene environment of the Muthurajawela reserve and the beautiful inlands of Sri Lanka.
The two residential towers will consist of a total of 290 spacious apartments spread over 34 floors each, comprising 2, 3- and 4-bedroom apartments and penthouse suites. They will also feature a host of modern amenities such as a state-of-the-art gymnasium, infinity swimming pool, extensive recreational areas and solar-powered common areas. The second phase of the project will feature a commercial complex comprising a supermarket, food court and shopping outlets to cater to the varied lifestyle needs of the residents.
The building is located on the main Negombo road at Tudella, Ja Ela, and allows easy access to the City of Colombo via the Airport Expressway and the Port Access Elevated Highway (to be completed in 2021). Both Colombo and the Katunayake International Airport is less than 15 minutes away, whilst the Biyagama Free Trade Zone and tourist town of Negombo are close by. Ja-Ela is now the fastest developing satellite city close to Colombo, with the government locating its Logistics Hub and Aero City around this location as part of the Western Province Megapolis development masterplan.
Arosha Perera, Director of Milroy Perera Associates stated that "the project is designed with the same level of luxury you could find in Colombo but for a fraction of the cost, which is the benefit of buying in to a location where land prices are not overheated. Ja Ela is a pioneering project where the building approvals had to be specially sought out as nobody had thought of a high rise building outside the Colombo district. Once completed, this will become the tallest high-rise building in Sri Lanka outside of Colombo district."
Chandima Anton, Chairman of Riviera Holdings noted that "we were always keen to bring 20 years of real estate experience in developing projects in France to Sri Lanka, where we saw real potential for investment. And in Milroy Perera Associates and Maga Engineering we have found the perfect partners to bring this landmark project to life. The presales from overseas has been extremely promising with close to half of the first tower sold. We have tremendous interest from both local and diaspora segments to invest in these residencies."
Chairman & Managing Director of Maga Engineering M.G. Kularatne added that "with Bellevue Residencies, the design-construction team that created Clearpoint Residencies has joined hands again.  With this project, we believe this team has further perfected the art of delivering luxury, space, technology, build quality and economy all at once, with the experience gained through number of award-winning high-rise condominiums in the recent past. As the largest and most trusted construction company in Sri Lanka, the value we bring in terms of quality and reliability is unparalleled, and it has manifested through the investor confidence this project has so far generated."