BEJEWELLING LIVELIHOOD
Mallika Hemachandra
Mallika Hemachandra Jewellers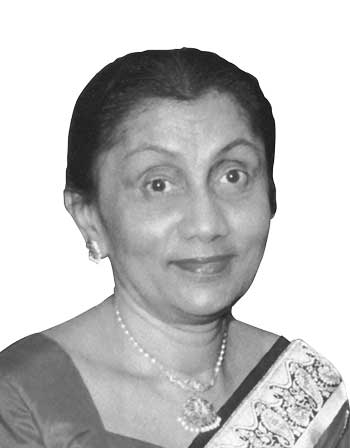 When her children were quite young, Mallika Hemachandra found herself widowed when her husband – who had worked in the government hospital as a psychiatrist – passed away. She found that the pension she received upon his death was insufficient to provide for her family; and so she determined to transform her hobby of jewellery designing into an enterprise.
It took a dint of courage and hard work – and was daunting too – as the sector was dominated by men. But with the support of her parents, she stepped into her own business: Mallika Hemachandra Jewellers.
Mindful that to make a success of what had hitherto been a hobby, she required proper instruction, Hemachandra set off for the United Kingdom and graduated from the Holborn School of Arts and Craft, where she learnt the art of manufacturing and designing jewellery.
She returned home and set up her venture, which was incorporated in 1968 – and she hasn't looked back since.
Women are the backbone of her business as she is conscious of the value of a skill that can provide a living wage. Approximately 80 percent of Hemachandra's workforce comprise women and in her factory, she has invested a considerable amount of time and effort in training over 750 girls to produce, clean, polish and repair jewellery over the past two decades. She knows too well the value of an opportunity for self-employment.
This doyenne of the jewellery sector who has been designing and manufacturing her unique creations for over five decades has had the privilege of the patronage of some significant personalities. Perhaps the jewel in the crown of Hemachandra's achievement would be the private showing of her collection to Her Majesty Queen Elizabeth II – herself an absolute connoisseur of fine jewels.
Her entrepreneurship and expertise has led to an association with the University of Moratuwa and Technical Training Institute as a Principal Investigator for jewellery examinations. She frequently shares her knowledge not only of the craft but also of business and the road map to success with others wanting to tread the same path.
A simple but profound mantra has propelled her career – a belief in herself, and understanding what she wanted to achieve at home and in her business. She has said that "in a business, profit is what you get in return. In your personal and family life, the profit is happiness."
Mallika Hemachandra: shattered the glass ceiling with a jewelled touch.