ASUS SRI LANKA
Q: Could you outline ASUS Sri Lanka's journey since its inception?
A: ASUS has maintained a strong brand presence in the Sri Lankan market for over two decades. Our entry was spearheaded by the world renowned ASUS mother boards – the global number one mother board brand to date.
Later, we introduced ASUS laptops and desktops. Until 2019, our focus was on consumer series products; we introduced several innovative products such as the ASUS ZenBook Pro, the world's first dual-touchscreen laptop.
Having witnessed a growing demand for laptops and desktops in the commercial market space, we began to aggressively approach the commercial market by introducing ASUS Expert Series notebooks and desktops last year.
By this time, we were consumer notebook brand leaders in the Asia-Pacific region, and this recognition and reputation for high-performance and high quality products handed us an advantage in reaching out to the commercial market.
Today, we have a fully fledged commercial product range to meet customer needs and are confident in our ability to deliver exceptional service in the future.
Q: What do you envision in terms of operations in the year ahead?
A: In a B2B environment, after sales service is imperative – and ASUS Sri Lanka will invest manpower and infrastructural development in this regard. We will also increase the volume of partners working with us to expand and increase our market penetration and reach.
Apart from providing device solutions, we plan to introduce software solutions in the near future so that we'll be able to fulfil all customer requirements.
Q: Are there challenges for the industry currently – and how about opportunities?
A: COVID-19 has had a mixed impact across the economy and we expect corporate organisations to subsequently implement cost cutting measures. Customers are increasingly looking out for products that deliver the best value for the price they pay, which is what ASUS has built a reputation for.
With the work from home (WFH) trend, there will be an increased demand for laptops, which in turn would diminish the prevalence of desktop systems.
Q: Can you elaborate on what ASUS Sri Lanka has to offer?
A: ASUS is reputed for its innovative design; we strive to offer customers a fresh experience.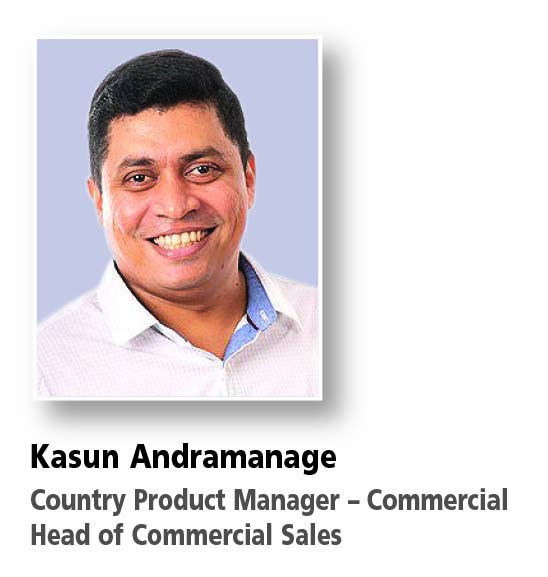 It's our mission to offer both an unrivalled user experience and performance to customers. For example, we recently launched the world's lightest 14" business notebook in Sri Lanka, the B9450 weighing only 870g, offering increased mobility for the present work from anywhere environment. It offers up to 24 hrs of battery life and charges up to 60 percent in 39 minutes.
Furthermore, it sports a magnesium lithium alloy chassis and offers two M.2 SSDs with up to 4TB in storage capacity, and has US military grade reliability certification, topped off with a three year warranty.
Since video-conferencing will be a prominent part of the future of work, the laptop also serves as an effective enterprise grade video-conferencing device and dispenses with the need for costly conferencing tools. It features four intelligent noise reduction mics and Harman Kardon certified speakers for the best experience for playback of a wide variety of content.
With products such as the B9450, we hope to move forward by capitalising on ASUS' reputation for design with the new thin and light trend in the market while offering uncompromised performance.
– Compiled by Sandesh Bartlett