AMW
'YAMAHA RIVER RUN' THRILLS ENTHUSIASTS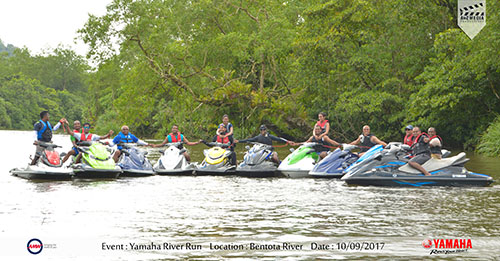 The thrill-loving generation of our country experienced a very rare moment of fun, frolic and water at a stunning event from AMW – a reputed organisation for quality road vehicles. Here too, at this highly entertaining performance of its personal watercrafts that swayed the spectators into heights of ecstatic enthusiasm, the hallmark AMW patronage was vividly present. AMW was ready to make an ample display of what its 'Yamaha WaveRunner' could do. For this purpose, it assembled owners to demonstrate to enthusiasts what this watercraft could thrillingly perform.
The venue, Bentota Lake, was filled with the high spirit of this demonstration. The performance brought together an extensive crowd of participants, almost of all ages. The main event 'Yamaha River Run' was a personal watercraft drive, along a pre-planned route that provided the opportunity for the watercrafts to amply display their efficiency. The event took on the 'feel' of a pleasant get together of 'Yamaha WaveRunner' owners. The ever-alert enthusiasts were kept fully engrossed by the keen pleasure generated by this water-dominating craft.
The proud owners received a brilliant moment to give to the dedicated participants a true idea of what their water-conquering 'Yamaha WaveRunner' could really achieve.
On that lively day – 10 September 2017 – the personal watercraft displayed to all enthusiasts and to all the onlookers in general the power it packs on water.
The beauty of the scintillating sprays, created by the watercraft, on that day will always remain in the minds of the fully engaged onlookers, to whom that attraction would symbolise the efficiency of 'Yamaha WaveRunner.'
The series consisting of this variegated agenda will be held again in the next year, with a range of improvements to ensure greater fun, frolic and thrill, both to the onlookers and to the owners of the 'Yamaha WaveRunner.'