AMBASSADORS MEET FOREIGN MINISTER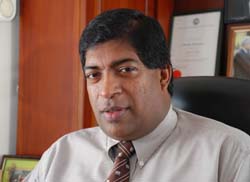 Ambassador of Russia in Sri Lanka Alexander Karchava and Ambassador of the United States Atul Keshap called on Sri Lanka's Minister of Foreign Affairs Ravi Karunanayake.
The Russian Ambassador stated that the friendly ties between Russia and Sri Lanka have been strengthened. He also pointed out that Russia continues to assist Sri Lanka in future development activities.
Meanwhile, the Ambassador of the United States noted that the United States remains committed to supporting Sri Lanka to uplift the living conditions of its people.