ADVANTIS PROJECTS 
Q: Why did Advantis Projects enter the project logistics field?
A: Over a decade ago, local logistics companies' capabilities were quite limited, and equipment for transporting and lifting heavy cargo was contracted from Singapore, India or Dubai. This was expensive, considering the cost of transport and outflow of funds.
Advantis Projects decided to invest in this area and develop capabilities to engage in such services. We've been able to capture the market and position Advantis Projects as the only expert in project logistics in Sri Lanka. Our contributions have not only driven local capabilities but served as an inspiration for the sector.
Q: What are the company's capabilities?
A: Originally engaging in transport services, Advantis Projects evolved to offer a comprehensive range of project logistics solutions. In its role as the largest project logistics asset based company, it serves local and foreign contractors by providing end-to-end logistics services in infrastructure development among other areas.
We offer a variety of services: freight and chartering; customs clearance and forwarding; crane rentals; alternate lifting solutions; container cargo transportation; cargo handling and storage; project management, engineering studies and consultancy services; and commissioning and installations. The company also has strategically located facilities near Hambantota Port and the Port of Colombo.
Advantis Projects owns a range of equipment – including top of the range heavy lift cranes from 12 to 250 tonnes; flatbed, low bed and wind blade trailers; and specialised equipment such as pullers, hydraulic multi-axles and sliding jacking systems. It is the only company in Sri Lanka with such a portfolio. And we've undertaken projects in various sectors including power and energy, roads and highways, bridges, railways and waterways.
Our team of professionals with experience in logistics meets the diverse demands of the sector by providing strategically designed solutions that help maximise productivity. Besides logistics specialists, we also have engineers to support end-to-end services.
As safety is paramount, Advantis Projects is proud to be the only logistics company in Sri Lanka with ISO 45001:2018 certification for occupational health
and safety management.
Q: Tell us about the projects the company has undertaken…
A: With over a decade of experience and specialised equipment, Advantis Projects
is an expert in project logistics. The company prides itself on its reliability in catering to local and international clients.
Over the years, we've been involved in large-scale projects that required us to dismantle and relocate power plants, transport and handle the longest tunnel boring machine in Southeast Asia, erect and install elevated highways, and transport and erect windmills to name a few.
Q: And how does the company aim to expand?
A: Advantis Projects is positioned as an inspiration for project logistics, given its major development projects in diverse areas. Leveraging our refined expertise, we've ventured beyond Sri Lanka to operate overseas in the Far East and Africa.
We're established in the Maldives, and plan to expand regionally – to Bangladesh and Myanmar – over the next 12 months. With the support of global project networks and their capabilities, we are confident in our ability to compete with regional players.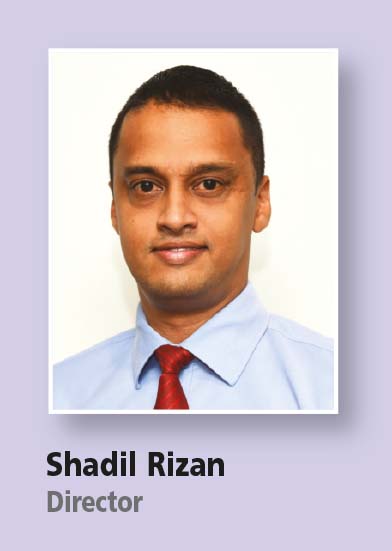 Telephone 2572020
Email projects@advantis.world
Website www.advantis.world/projects