A VISION OF ONE SRI LANKA
LMD ARCHIVES (MAY 2010)
Sharing a goal to build a nation that all Sri Lankans can identify with is the need of the hour – Renton de Alwis explains his rationale
This is the month of Vesak, and it offers us an opportunity to look in the mirror and contemplate on what is truly important and relevant to us all – as Sri Lankans, and as citizens of Mother Earth. It matters little whether you are
a member of a corporate entity or an individual. The end we seek will be the same.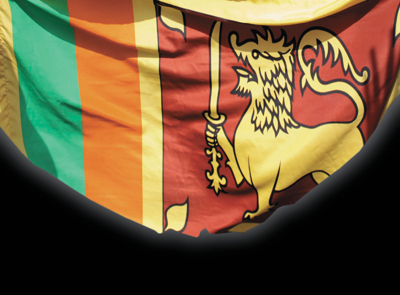 With the end of almost 30 years of conflict in Sri Lanka, there are those who are bent on thinking that it is time for us, as a nation, to catch up on lost time – that we must rush into seeking the petrodollar-like capital that is floating around, and go in for massive developments that demonstrate what some may call a 'developed country.'
We still see reports quoting our FDI promoters and tourism policymakers on mega investments from mega sources, saying that Sri Lanka's past follies will be put right by aspiring to be another Singapore or Hong Kong.
In the aftermath of the Second World War, we observed the 'big is better' dictum. Most countries that found riches by extracting valuable resources of oil and minerals also sought to build the tallest buildings on Earth, the largest shopping malls and the biggest theme parks.
The movement of global investment capital and consumer spending based on unreal, yet-to-be-earned incomes was rapid, facilitated by ICT innovations. And the capital flows transformed developing nations too, thanks to mega models of resource extraction and off-scale developments.
This was true until recently, when the world realised its folly with the crash of the most impressive real estate boom in US history, the fall of large financial institutions and corporations the world over, and massive job losses and lowly livelihoods following closures or downsizing at large industrial complexes.
Today, we talk about the merits of green buildings, carbon-neutral cities and tourist destinations, foliage on top of high-rise buildings and surrounding them, producing potable water by desalinating seawater, and harnessing alternative energy sources such as solar, wind, biofuels and so on.
Nanotechnology, biogenetics and efficient adoptive technologies are being touted as 'saviour options,' giving us hope for the future. We are told that the future will be tougher than the past, with global warming creating rising sea levels that will devastate low-lying areas around the world.
Climate change researchers warn that there will be a higher incidence of natural disasters such as droughts, floods and earthquakes, and the spread of new diseases of epidemic proportions that we call pandemics, which
will impact rich and poor nations alike.
We are also sensitised to how human evolution that took hundreds of thousands of years of gradual formation until the last century (i.e. the Prehistoric, Stone, Agricultural and Industrial Ages), thereafter took on a path of exponential transformation.
With only decades defining their fast-forward formation, the ages of information technology, globalisation, knowledge and creativity descended on humankind… rapidly, and in meteoric proportions.
Several futurists have attributed the rise of fundamentalism, and the emergence of terrorism, as an outcome of the human mind's inability to keep pace with the rapidity of these transformations, often resulting in chaos and conflict.
On the other hand, policies outlined for Sri Lanka emphasise the need for a model of development where a holistic empowerment of communities and their participation in development is pronounced.
Correcting the regionally skewed distribution of the fruits of development, attaining self-sufficiency in agriculture to meet our food needs with minimum dependency on imports, more value addition in our exports, and ensuring environmental and sociocultural sustainability are amongst the other key directives. Such a model, based on the Sufficiency Economy principle, assumes the participation of the majority to pave the way for a more profound path of development that can be on-scale and sustainable. This will provide direct benefits to stakeholder communities, in contrast to the dominant model of 'investor takes all.' The latter is operated mainly by wage-earning workers,
and the crumbs of CSR falling onto communities.
The positives that we – as a nation – have, when we come out of the negatives of nearly three decades of internal strife and conflict, are that we have retained a good part of the island's green cover and a majority of the citizenry is yearning for lasting peace – and is sensitive to the need for rebuilding unity among communities, and for creating
a tolerant and caring society.
We must now share a vision of a Sri Lanka that we can all be justifiably proud of, where we take the hard road to build on our strengths and shoulder the responsibility for paving the way ahead.
To get there, we need to think big – to be able to retain our uniqueness, to think out of the box and think afresh, to be able to bring true meaning to what will be valued in the future by the rest of the world. We need to build a unique and truly Sri Lankan brand of Sri Lanka.