4 WAYS TO DESIGN
4 Ways to Design the Perfect Vacation Home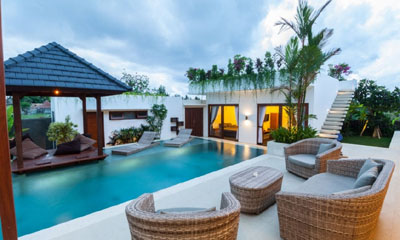 Whether you own a home by the side of the golden beaches in Galle, or among the Kandy hills, having a second home is definitely a lucrative investment and a dream for many of us. Many Sri Lankan home owners rent their holiday homes out to local and foreign guests, whereas others prefer to keep them for themselves as an occasional getaway from reality. However, whether rented out or not, holiday homes are likely welcome a number of guests. Therefore, it is important to create an environment that is made to entertain guests and to offer guests a comfortable and relaxing space.
With the country's fascinating architectural designs, diverse cultural values, and ideal climate, it is no surprise that Sri Lanka is ranked among the best holiday destinations in the world. Sri Lankan culture is known for its hospitality and most vacation home owners want to create a space that instantly makes guests feel at home.
If you are planning to give your holiday home a makeover, we are happy share some of top ideas and pieces of advice that will help you to design the perfect vacation home for your guests and family.
Define the purpose of your holiday home
Before you start off, remember why you bought this home in the first place. Were you planning to create a place to allow you to de-stress your mind and relax, or were you looking for a place to entertain your guests, friends, and family?
Having a properly defined purpose makes the process of designing your vacation home much easier and less expensive. This will provide you with the foundation you need to design your space and create the holiday home of your dreams.
Be inspired by your environment
Escape from your daily hectic lifestyle and move into a space that is calm and tranquil. When designing your holiday home, consider transforming it into place that is closely connected to your surrounding by incorporating natural elements into the design as you can. You can use indoor plants, integrate an indoor pond, purchase wooden art pieces, wooden tables, chairs, and shelving units, or even use stone decoration. If your vacation home is located close to the beach, incorporate sea-themed accents such as sea shells, surf boards, soft linens etc. Natural elements inspired by your surroundings will help you and your guests to stay grounded, de-stressed and be at peace throughout your vacation.
Create plenty of storage
Storage is a key essential in any vacation home, and it is one aspect of design that most vacation home owners seem to not to pay much attention. No matter how spacious holiday homes appear, when it comes to storing items like vegetables, shoes, and toiletries, this will always be a struggle unless you have installed the appropriate units. Therefore, when designing your perfect vacation home, don't forget to create plenty of storage options that will help your guests to store away whatever they carry with them.
Consider decorating with unique Sri Lankan art
Allow your foreign guests to experience the essence of an authentic Sri Lankan home by incorporating tranditional elements to your design. Think traditional Sri Lankan posters, carpets, paintings, carved wooden arts and furniture, Batic designs and other ornaments that display the cultural and traditional values of Sri Lanka.  You can obtain various inspirations from famous vacation homes in Sri Lanka such as The Geoffrey Bawa–designed Claughton House, The Malabar House, and The Luxury Kumara Villa.
We hope you enjoy the vacation home of your dreams year after year!