3 REASONS WHY REGUS OFFERS THE BEST OFFICE SPACE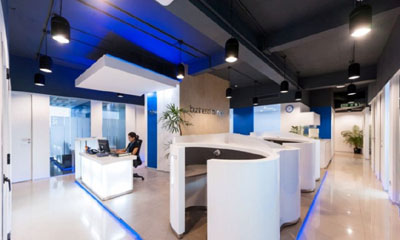 Finding great office space in Colombo can be tough.
It takes time to find great workspace. Especially in Sri Lanka's capital, where according to the JLL 2017 Report, Colombo's grade A offices have been witnessing 95% occupancy levels.
Even if you've managed to find your ideal office, it takes even more time to negotiate lease terms, do due diligence, deal with legal paperwork and set up utilities.
You'd probably prefer to spend this time on actual work rather than hunting for office space.
If so, Regus is here to save you the hassle. They've been providing companies with office space for almost 30 years and now have centres in 3,000 locations across 120 countries worldwide.
Ready-to-go workspace
With Regus, you simply pay for the space you need and start working straight away.
Offices, co-working spaces and meeting rooms are comfortable, professional environments with ergonomic office furniture. If you need a breather from work, you can relax in the business lounge or smaller breakout area. For refreshments, there's a communal kitchen with tea and coffee-making facilities.
All space comes with secure business-grade internet, Wi-Fi, phone handset and lines. If you require an advanced IT infrastructure, Regus has you covered. Their facilities are supported by Cisco technologies, providing a communication centre, firewall and other necessary features to ensure the safety and functionality of your IT systems. To top all of that of, there is also a dedicated team working 24/7 to resolve system issues.
Utilities are included in the price. Offices are spotless and presentable as Regus looks after cleaning and maintenance. You also get a dedicated receptionist who will greet your guests, answer phone calls and even help with mail handling and document copying.
Flexible terms
Looking to execute a short-term project in Sri Lanka and need an office for your team? Even if the project lasts for only a day, you can fully enjoy Regus's facilities and be charged only for that single day.
Size is no issue either. You can come as a one-person team and increase to 10 people in a couple of weeks – it's easy to change workspace to suit your needs. And if you find that the space is not really keeping with your feng shui, you can change it, provided, of course, that you cover the costs.
Regus has office space all around Colombo and its suburbs. Currently, there are four locations situated centrally and another three in the suburbs. You can find city-centre offices at Parkland on Park Street, GPD Building on Dharmapala Mawatha, World Trade Centre at Fort and McLaren's Building at Colombo 04. The suburban spaces are located at Kotte in the Lotus Building and the Paramount Tower, and at Dehiwala in Bernards Business Park.
Regus is there to support you around the world
Regus has locations in over 900 cities worldwide, so you'll always find a place to work conveniently wherever you are. With a Businessworld card you can simply find the nearest Regus and start working. You don't even need a WiFi password, because if you've used it before, you'll be logged in automatically.
What's the best way to find a nearby Regus office space? Just use the Regus app. You can quickly find office space, book meeting rooms and much more, and do all of this wherever you are in the world.
Conclusion
Regus allows you to focus on the things that matter. It requires little commitment on your part and gives you and your business lots of flexibility – wherever you go in the world.