3 REAL ESTATE TECH TRENDS FOR 2018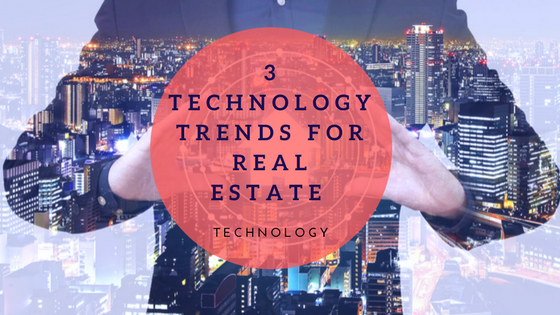 Real Estate is an industry that revolves around its customers to a great extent. Therefore, it is vital for real estate companies to adapt to the latest technologies to attract, convert and retain customers. Knowing and understanding how to make topmost use of latest technologies for real estate not only helps realtors but also assists buyers and sellers to fasten their process and be on par with this rapidly growing industry.
2017 witnessed the growth of such technologies, namely, virtual reality/augmented reality, growth of videos and chat bots that automated responses to clients. Nevertheless, we will see the ubiquitous use of these technologies in both large scale and small scale real estate companies in 2018.
Wearable technology
It is no surprise that in the real estate industry, realtors are constantly focusing on making the customer's journey seamless by making the buying and selling process simple and fast. Thus, in an attempt to facilitate this, more and more leading real estate companies are now getting their hands on wearable technology. This technology minimizes the time spent moving from place to place checking properties.
Wearable technology can be classified into three categories; Watches, eyewear and VR headsets.
Smart watches
Smart watches connected to a realtor's phone enables them to stay efficient throughout the day. The watch provides the realtor with important notifications such as the properties which are lined up for the specific day or any scheduled meetings. Moreover, smart watches are built to run native apps which allows the realtor to be updated on the status quo without any regard to the location of the realtor. Some of the latest smart watches that are gaining rapid attention in 2018 are the Apple Watch 3 and the Tickwatch E.
Eyeware
When Microsoft introduced its latest piece of technology, the HoloLens, it created a confusion as to what makes the Hololens different from Google Glass and the Oculus Rift. HoloLens creates an augmented reality which is best used for real time purposes. The Hololens enables property seekers to view properties in the form of 3D as if they are a part of any environment. It provides a 360 view of the property enhancing the customer's experience in viewing properties. Some of the benefits of the Hololens are, time and cost savings, increased viewings, the ability to market upcoming developments easily and increased customer satisfaction through the use of innovating technology.
VR headset
In 2017, Windows Mixed Reality was introduced to the market. The mixed technology operates similar to virtual reality where the users enter into an artificial digital environment. However, what makes it stand out is its ability to interact with the real world where users can add virtual objects to the real world. How realtors can make use of this technology in 2018 is by incorporating it to their design and construction process.
In 2018, HTC and Oculus will be introducing wireless devices that give the user the freedom to move. LG is set to release a new VR (virtual reality) technology, the Head Mounted Display. Though the LG HMD (head mounted display) will be using the same tracking platform as the HTC Vive, it will have a higher resolution and improved ergonomics over HTC Vive.
Artificial intelligence
One of the major ways home buyers can benefit through the use of artificial intelligence technology is reducing the time take to make decisions. Through the introduction of chat bots which are intelligent tools that interact with a customer, buyers are able to obtain information about desired properties and the buying or selling process in a less time consuming manner.  As a result of the growth of Chat Bots, at present, customers are able to interact with companies through their Facebook business pages at any given time. The use of Chat Bots also helps realtors to minimize the time spent on answering repetitive questions, instantly interact with prospective buyers and deliver valuable information within a minimum period of time.
What does Artificial intelligence mean to commercial real estate?
While property seekers and sellers are benefited through AI technology, the commercial property sector is able to leverage this innovative technology as well to manage their properties, such as finding tenants, find cost effective vendors, and run maintenance tasks effortlessly. AI also facilitates job automation by minimizing repetitive tasks. This, as a result, encourages real estate companies to only have extremely useful and skilled agents to run core operations within the organization.
On the other hand, real estate investors are able to set their income and set goals with the help of a robot monitoring them. They can also be notified about certain deals that match their requirements.
Big Data for Real Estate
One of the key abilities of a successful real estate organization is being able to analyze and make predictions about the future trends in the industry. The real estate sector in the past was mostly paper based, thus, there has been a lack of access to adequate information. Hiring external research organizations were costly and time consuming as well. Today, big data has drastically changed this element as a result of information being easily found on the internet. Now, realtors are able to analyze, interpret information such as changes in property prices, demand and supply for different types of properties and the most demanded locations, which in return assists in predicting future trends easily.
According to Inside Big Data, Big data helps realtors and property seekers be efficient in five key areas. They are,
Transparency,
Better Decision-Making
Efficiency
Marketing
Maintenance