2014
Sri Lanka Wins its First T20 World Cup
Swashbuckling batsmen back the bowlers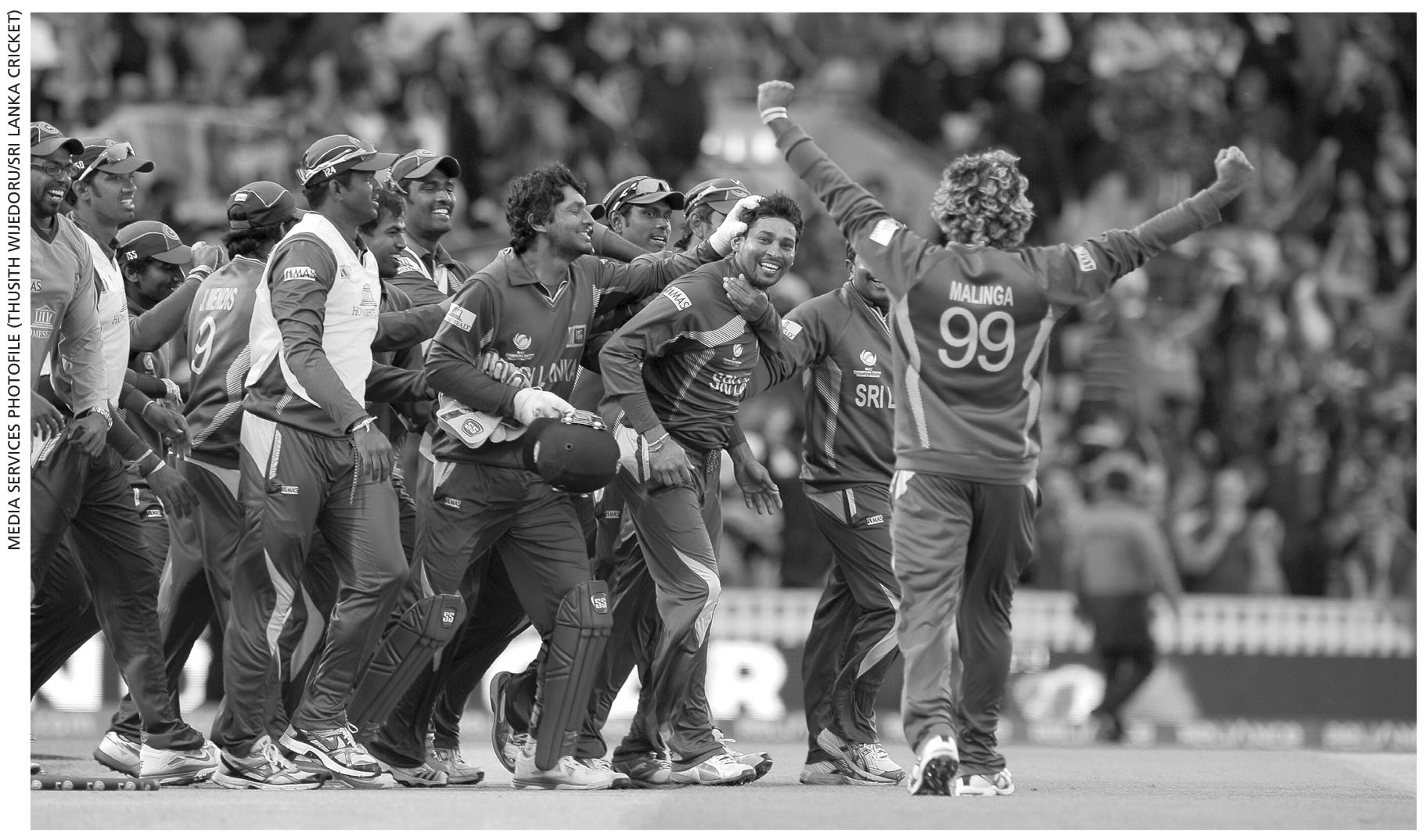 The minnows of the cricketing world as they were at the time became sharks in Lahore in 1996, the year Sri Lanka clinched the Wills World Cup to bag the top prize in the 50 over version of the game.
But it took a long and grinding – and often excruciatingly disappointing – 18 years before the island nation's cavalier cricketers could stake their claim to a place in the summer game's sun.
And this was despite the presence of world-beating seniors such as Arjuna Ranatunga, Aravinda de Silva and Sanath Jayasuriya in their original ranks; to say nothing of spin wizard Muttiah Muralitharan and later, flamboyant pacer Lasith Malinga in the bowling department; as well as the stalwart contribution of two modern greats in Mahela Jayawardene and Kumar Sangakkara thereafter.
Sri Lanka came close to victory so many times that they seemed fated to be never the number one team. In One Day Internationals (ODIs), they lost to Australia in 2007 and India in 2011 in thrilling World Cup finals. And in the Twenty20 (T20) stakes, the boys were pipped at the post by Pakistan and West Indies respectively, in the T20 finals of 2009 and 2012.
And following four such frustrating second place finishes, many were calling into question the islanders' temperament when it came to becoming and remaining top dogs.
All of that changed for Sri Lanka in the 2014 T20 World Cup, the fifth edition of the Twenty20 championship (in Bangladesh this time around), and the second instance an Asian  nation hosted it – Sri Lanka being the first in 2011.
Having prevailed over the West Indies in its semifinal with a nod to Duckworth and Lewis, Sri Lanka settled India's hash in a powerfully controlled final that served to silence the critics.
And with skipper Malinga leading from the front – beating a hamstrung Indian team time and again outside their off stumps, particularly Yuvraj Singh – to contain India (arguably the best team in the tournament) to 130, the rest was up to Sri Lanka's willow wielding warriors who did not disappoint their legion of diehard fans.
Swashbuckling Sangakkara (playing in his last T20 match) essayed a match winning 52 off 35 balls to anchor the chase while Thisara Perera's 14 ball 23 with three sixes to boot sealed the deal for the island lads… despite being 78 for 4 in the 13th over. And so it was the batsmen's brio that brought the trophy home.
Swashbuckling Sangakkara … essayed a match winning 52 off 35 balls to anchor the chase while Thisara Perera's 14 ball 23 with three sixes to boot sealed the deal for the island lads