1972
Sri Lanka Becomes a Socialist Republic
New constitution ends Dominion of Ceylon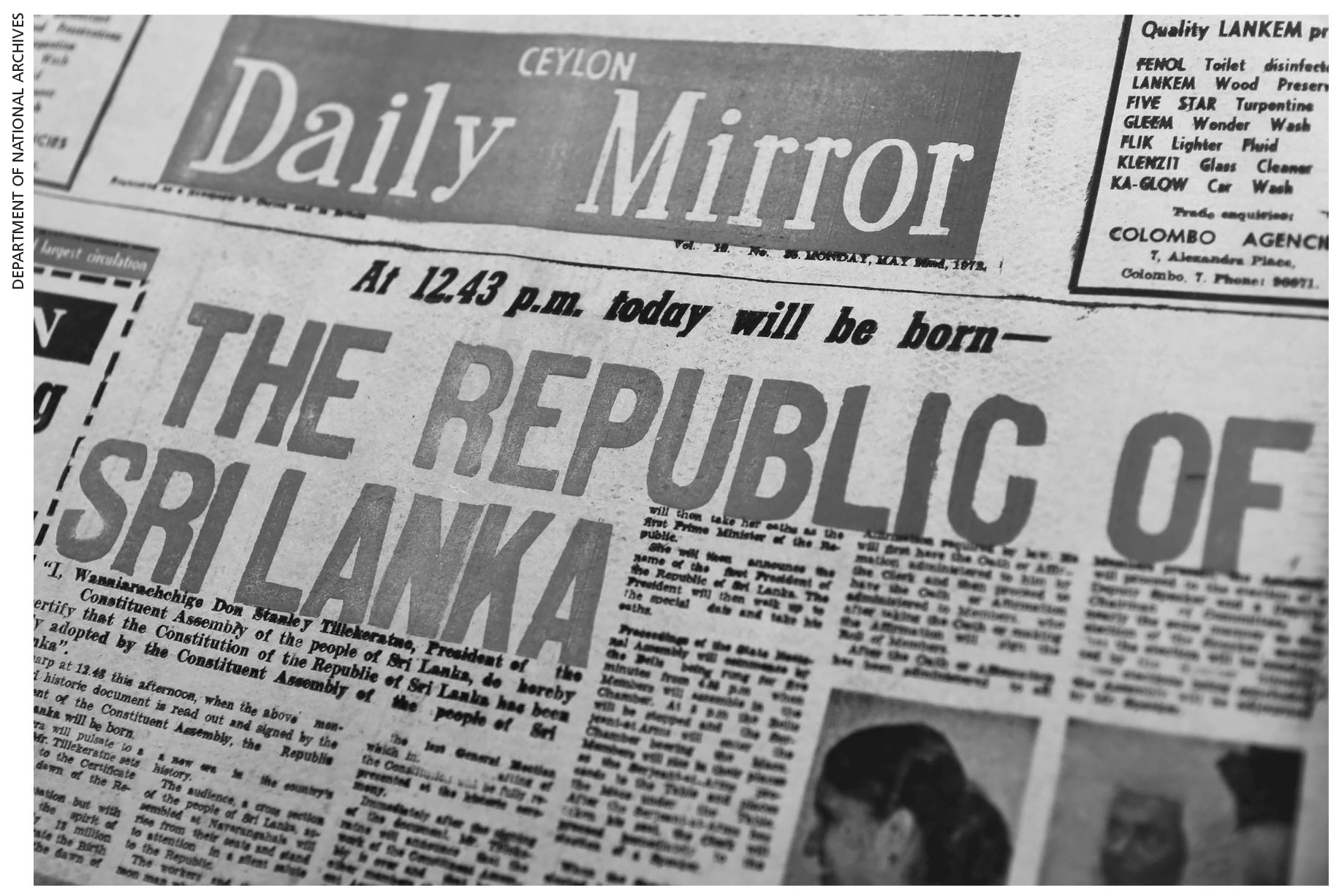 After 443 years of colonisation, Ceylon shook off the shackles of empire in 1948. Then – from the year of its independence to 1972 – the island existed in a halfway house of democracy and dependence on Britain, supposedly enjoying dominion status.
And finally, abandoning all vestiges of being in servitude to any national agenda but its own, the Socialist Republic of Sri Lanka was formulated on 22 May under the aegis of a new constitution.
The first republican constitution of 1972 was the brainchild of the then Minister of Constitutional Affairs Dr. Colvin R. de Silva who chaired a series of committees that drafted the new social contract although Prime Minister Sirimavo Bandaranaike took the political credit for it.
And the latter worthy was the last premier of Ceylon (Sir William Gopallawa, the last Governor General, became its first titular non-executive president) as the island took on its new name Sri Lanka – the 'resplendent isle' – and a fresh destiny… or so it seemed at the time.
With the promulgation of the 1972 constitution, the National State Assembly superseded the seventh parliament of old Ceylon. In the new Sri Lanka, this legislature would eventually be dissolved almost five years later, on 18 May 1977, as the country turned to the United National Party (UNP) after seven years of Bandaranaike's chequered political career and gave it a resounding landslide victory.
In 1972, the UNP voted against the republican bill in the house. The conservative party's opposition to the first republican bill was justified on the principle that the left leaning Bandaranaike government had made a political ideology the ethos of an entire nation by enshrining it in the legally binding new social contract whereby socialist economic policies would dominate.
Other causes for civic concern included the truncation of fundamental rights, subordinating the judiciary to the executive by making the former accountable to a cabinet of ministers and compromising the principle of neutrality in public service.
Be those lacunae as they may, the 1972 constitution ended dominion status and chartered a new course in greater indepen­dence from postcolonial powers.
Abandoning all vestiges of being in servitude to any national agenda but its own, the Socialist Republic of Sri Lanka was formulated on 22 May under the aegis of a new constitution