1971
Youth Insurgency Takes State by Surprise
Violent strike before brutal reprisals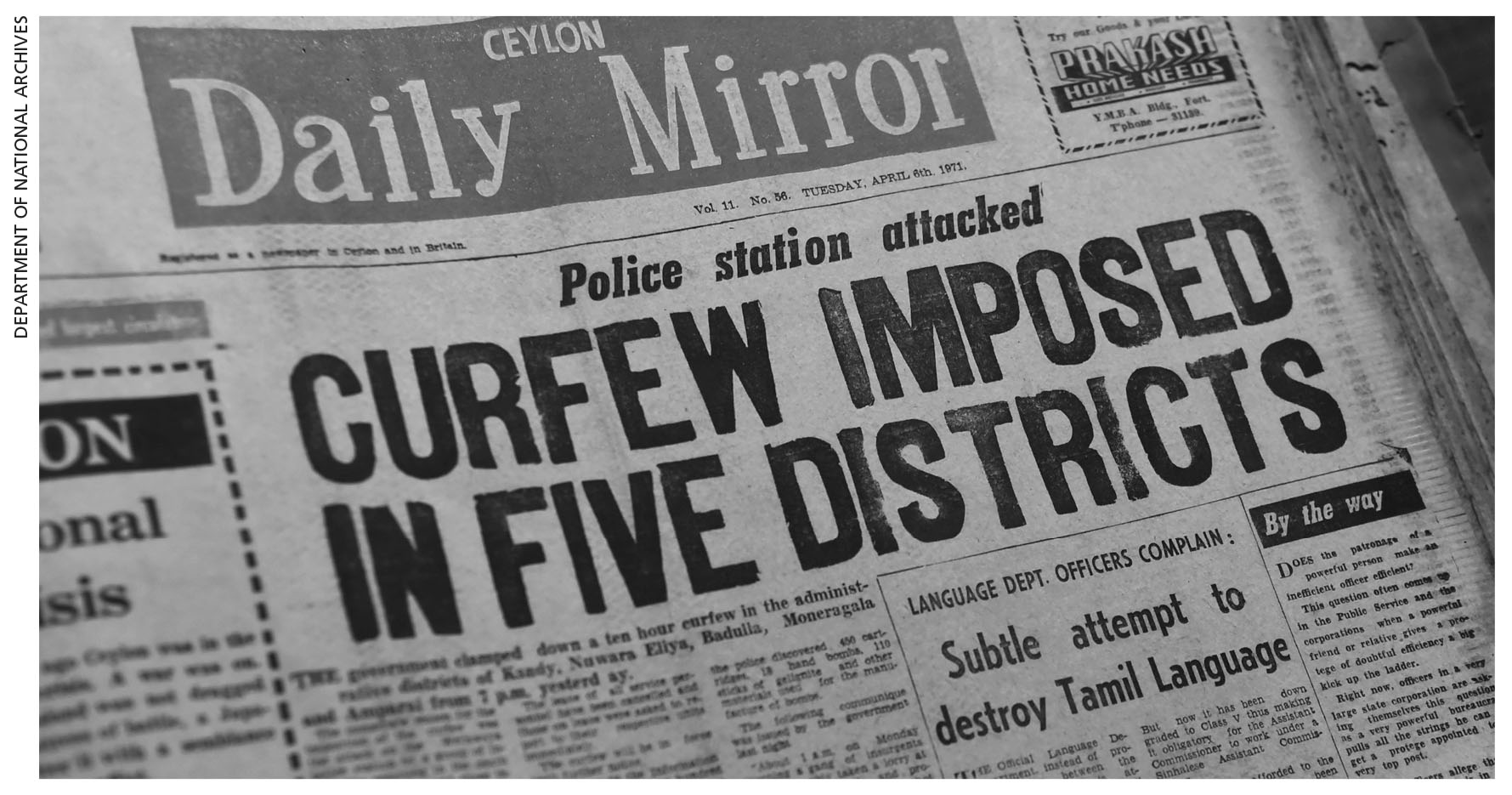 A time of armed violence is always disruptive to a nation's sense of stability. But a violent insurrection that's planned and implemented by ideologically motivated rebels shatters the security of the political establishment and brings terror – albeit brief in its first avatar – to a country at large.
The Marxist influenced Janatha Vimukthi Peramuna (JVP) – a self-styled 'people's liberation struggle' – had been violent in engaging with the United National Party (UNP) government in the early part of 1970; and yet, it did not formally launch an islandwide campaign of violence against the state until April.
From the outset, and under the mentorship of People's Friendship (Patrice Lumumba) University of Russia alumnus Rohana Wijeweera, the JVP showed signs of good organisation along Maoist cell lines, as well as serious indoctrination in Marxist tenets and guerrilla tactics.
Among the ideologues who taught disgruntled rural youth that comprised the JVP cadre was Wijeweera, applying himself to lecturing in the infamous 'five classes' (lessons) that brainwashed young men and women into taking up arms against the state.
Their principal grounds for dissent were Indian imperialism and expansionism; a worsening economic crisis; and the perceived failure of Ceylon's communist and socialist parties to provide solutions or critically engage the government – all of which, in the JVP's book, required a sudden and violent seizure of power.
In the first rush of blood at the initial surprise attacks, the young rebels – mostly 16 to 25-year-olds – were outrageously successful. Their simultaneous attacks on 74 police stations on 5 April (and 18 more in the next few days) saw 35 areas across the country come under JVP control.
Later, officers of the military that cracked down brutally on the youth would comment on the discipline and commitment, which enabled the rebels to take their targets and hold them.
Of course, once the army and police began retaliating under an emergency that was declared by a panic-stricken government, the show was over in two months – with the official death toll being 1,200 including 533 security service personnel (323 were wounded); although the informal body count may have been as high as 5,000, and sporadic incidents cropped up here and there even after June.
But it shook Ceylon as never before – with India and Russia coming to the state's aid with men and materiel while China subversively armed the insurgents through the North Korean embassy in the isle.
It would take another 26 years for the incarcerated Wijeweera to mount a second insurgency.
Once the army and police began retaliating under an emergency that was declared by a panic-stricken government, the show was over in two months – with the official death toll being 1,200