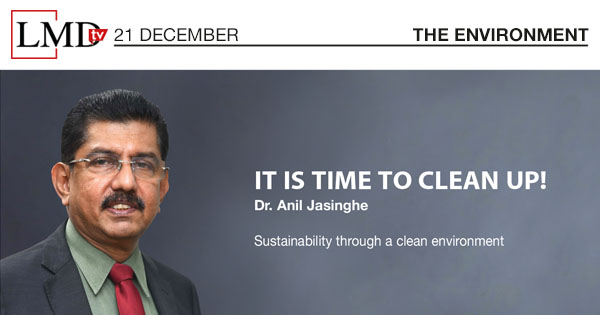 Across the globe, countries are facing uncountable challen­ges from economic crises to wars, but the Secretary of the Ministry of Environment Dr. Anil Jasinghe feels the world is suffering from a triple planetary crisis of climate change, biodiversity loss and pollution.
When it comes to pollution due to waste, he pointed out that improper waste disposal – i.e. littering – is a product of basic human misbehaviour. And he called for the implementation of the three Rs (reduce, reuse and recycle) to combat this catastrophe.
He explained: "The best way is to reduce waste. And we have single-use items like plastics, which can be reused. Then we have recycling, where waste will become raw materials for another product."
Jasinghe commended LMD for its latest campaign 'Refresh Sri Lanka,' which aims to encourage a mindset change for a more civicminded society. In this regard, he highlighted the importance of the 'proper waste disposal' pillar.
"There's lot of waste around us; and a lot of littering," he lamented, pointing out several strategies to adopt to battle this burning issue.
He believes that one of the first steps needed to create a positive culture regarding proper waste disposal is to embrace a cleaner urban environment. "When you have a clean environment, you tend not to litter; but when you see a bad environment, you tend to litter," he noted.
Jasinghe cited several challenges Sri Lanka has to overcome as a society to be more civic-minded and create a cleaner environment, starting with changing mindsets and instilling environmental literacy among the populace.
The Secretary of the Ministry of Environment called for the need to inculcate proper behaviour especially among schoolchildren: "They will be role models and change the behaviour of adults."
He recommended that schools take on collective activities to encourage good behaviour among students – such as beach cleanups.
Consumerism is another challenge and a significant contributor to unnecessary waste. "There are a lot of consumer goods that we use on a daily basis and they all produce litter," he averred, calling on industry to focus its production on the circular economy and produce less.
"We must consume what we really want to consume; and the more you consume, the more you grab from future generations and then we deplete the environment of its natural resources," he said.
Jasinghe spoke about how strengthening environmental management is a strategic area of focus of the 2030 agenda of sustainable development, noting how several sustainable development goals (SDGs) are environment-related – such as SDG 12 on responsible consumption and production; No. 13 on climate action; No. 14 on life below water and No. 15 on life on land.
"The Ministry of Environment is working on these goals and addressing them through the National Environmental Action Plan 2022-2030," he said.
According to Jasinghe, Sri Lanka is also making progress in terms of climate action.
He elaborated: "There are two sets of actions – mitigation and adaptation. In mitigation, we work on renewable energy and to some extent, lessening the mobility factor. Yet mostly, we work on adaptation because how we adapt to climate change is important given that Sri Lanka is one of the most vulnerable countries in the world."
Jasinghe believes that given Sri Lanka's economic turmoil, instilling proper waste disposal for environmental management is crucial when it comes to reducing the country's costs. He believes that Sri Lanka must first reduce costs by greening the environment and society.
"We need to concentrate on the environment because it can bring in a lot of dividends to us even financially," he averred, noting aspects like debt-for-nature-swaps, carbon credits and green financial instruments.
And he concluded that "it is we who generate waste, not the fauna or flora; so we're responsible for the proper management of waste."