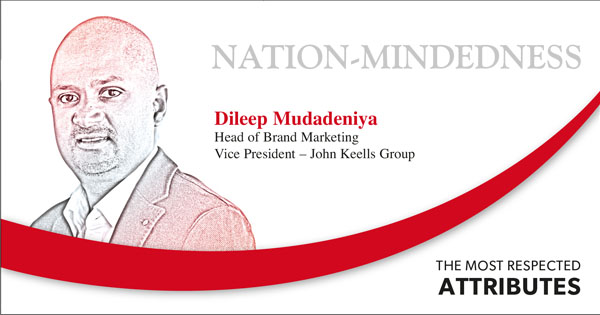 Q: What does it mean to be nation-minded, in your view?
Nation-mindedness requires going beyond the balance sheet for the greater good of the country.
This is more relevant in the leisure sector where the country is directly linked to the product or service offered. Hence, we took the initiative of taking Sri Lanka to the world with several key strategic destination marketing activities.
A broader vision must be taken into account with macro strategies. Entrepreneurial leadership, visionary thinking, skills and ability to foresee beyond the status quo, and understand and analyse the great business opportunities prevalent under such macro strategies, are some key attributes of a nation-minded strategy in business.
Q: How does this attribute translate into the day-to-day operations of an organisation? 
This should be part of the DNA of the organisation. Business planning, as well as the vision and thinking of the organisation should align to make a nation-minded strategy a reality.
An organisation can drive a clear differentiation in the minds of consumers through strategic nation-mindedness, and rally support from all stakeholders, including brand evangelists, to uplift overall brand equity.
Q: Could you highlight some success stories where nation-mindedness paid dividends?
Some of Cinnamon's key accomplishments have helped Sri Lanka gain global recognition, and establish the country as a key tourist destination to be reckoned with.
Sri Lanka being named the number one destination by Lonely Planet in 2019 was a direct result of the global travel influencer programme launched by Cinnamon. The Travel Bloggers Conference Asia and Awards 2016/18, and the Lonely Planet book published in 2019 carry testimonials of this commitment.
The introduction of international theatre productions, saw Colombo debuting as a cultural hub for visiting tourists.
Sri Lanka receiving endorsement during the pandemic with the Travel Safety Stamp from the World Travel and Tourism Council, is another initiative by Cinnamon.