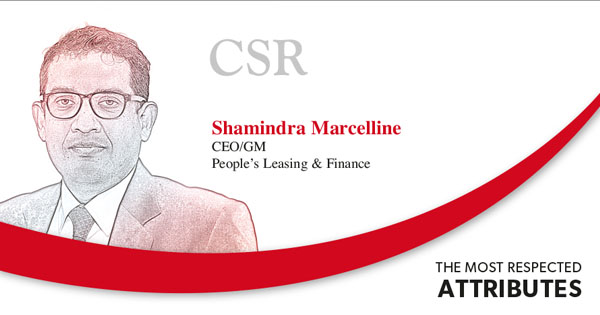 Q: What counts as 'CSR,' in your opinion?
CSR is often considered as giving back to society through philanthropic or charitable means. But, it is not so.
We believe that it is our primary responsibility to provide responsible and inclusive financial solutions for people – especially SMEs – to promote a higher level of economic activity while minimising our negative impact on the environment.
At People's Leasing & Finance (PLC), CSR goes beyond compliance and reducing risks. It is our voluntary commitment to engage in ethical business practices. The more we integrate CSR into our business model, the more we make a positive impact on the environment and strengthen the relationship with stakeholders.
Q: How can employees be encouraged to engage in CSR?
PLC staff are constantly reminded of our purpose and values. In return, they assure that PLC offers affordable access to customised financial products and services that empower customers as they exploit livelihood opportunities to drive the economy through sustainable growth. 
Employees are educated on the importance of lending to sustain businesses during financial hardships. As such, employees are empathetic to the genuine financial difficulties faced by customers during COVID-19 and the aftermath of the tragic events in April 2019.
Moreover, employees are encouraged to volunteer in outreach CSR activities that empower local communities.
Q: Do you believe that CSR will continue to be an important attribute given the ground realities?
Considering technological advancements and the urgency of delivering on the UN Sustainable Development Goals, it is important for corporates to place purpose and responsibility at the heart of the business, and demonstrate firm commitment to them.
The purpose of a business should be to solve the problems faced by people and the planet. A corporate that is committed to operating ethically and responsibly will be able to sustain its business amidst the challenges of a rapidly changing environment.