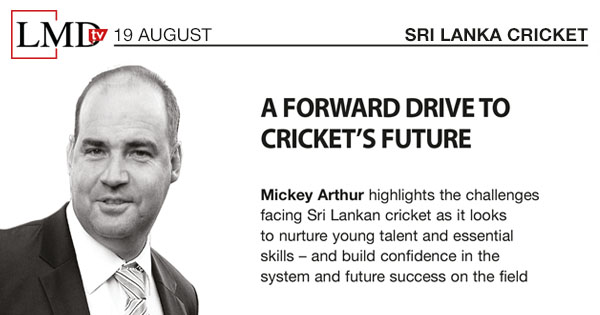 "We used the curfew to get to know our players, and look at our brand and structure," said the Head Coach of Sri Lanka Cricket Mickey Arthur, pointing out that the squad continued to maintain fitness despite the challenges brought about by COVID-19 while displaying a willingness to perform and succeed.
Noting that he has coached several teams over the years including South Africa, Australia and Pakistan, Arthur highlighted the Sri Lankans' eagerness to learn as an ingredient that could help transform good cricketers into greats.
However, when commenting on the team's preparation for the ICC T20 World Cup in India next year, he acknowledged that Sri Lanka's "white ball cricket hasn't been good as of late."
"We must qualify for the next T20 World Cup so there is a need to pick a squad that can be successful as well as defining clear roles for players," he asserted, emphasising that "we must consider the brand of cricket that will be successful for us in India."
In his view, this entails identifying the skills needed for success, which players possess these requisite skills and determining the appropriate balance of the squad. Adding to this, Arthur declared: "The players need to know exactly what is required and expected of them, and what we want them to do in any particular game."
He noted that the development of a national squad will be facilitated by upcoming series against Bangladesh, South Africa and England: "We have time to build up to what is needed in terms of a young Sri Lankan team over the coming period; and we must provide this young talent the roots to grow and wings to fly because that will make them better players."
As for the Sri Lanka Premier League (SLPL), Arthur believes that the tournament will serve as an opportunity for many young domestic cricketers as seen in the Pakistan Super League (PSL), Indian Premier League (IPL) and Caribbean Premier League (CPL).
"A local competitive league is important for any player's growth and it's essentially a domestic competition that enables the best domestic players to learn to play with foreign players in front of large crowds," he explained.
With audiences for sporting events likely to be limited going forward as few or even no spectators will be present, there are questions regarding players feeling less pressure.
However, Arthur stated that motivating players would be simple given that spectators who may have physically attended matches are likely to be viewing them on television: "Having watched recent series, the quality of cricket has continued to be exceptional."
According to him, Sri Lanka is home to much young talent, as showcased by the club cricket matches that were being played across the country at the time of his interview. But an issue that has impacted the national scene is a lack of consistency when it comes to selection: "Players have been in and out, which does not breed a positive environment."
He reiterated: "We must identify a group of young players and tell them exactly where they fit in on a fairly consistent basis. For example, this would mean identifying the best wicketkeeper and the next best so that players will know when to step up in the case of injuries. This breeds confidence in the system."
"Once players are confident in the system, teams will experience sustainable success, which is what we are targeting presently," he elaborated, adding: "We want to offer players as many opportunities as possible but also enable them to grow so that they aren't playing with a guillotine over their necks; they know they'll be given ample time to showcase what they can do."
In his concluding remarks, Arthur commented on Sri Lankan cricket's prospects, noting that there's a lot of work to be done with "massive challenges" ahead: "The talent, skill, people and passion are there; and if we can guide all these ingredients in the right direction, I'm confident that we can achieve success."