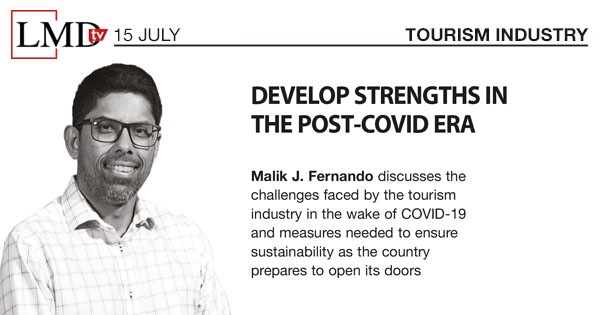 Determining the next steps for the tourism industry has been a challenge given the prevailing pandemic induced uncertainty, Resplendent Ceylon Managing Director Malik J. Fernando acknowledged on LMDtv recently.
Noting that the outlook for the industry was reasonably optimistic at the time – with the country planning to reopen to foreign tourists in August although this was deferred in the light of the resurgence in COVID-19 cases globally – he explained that the focus for businesses is survival.
Various concessions have been granted to address the loss of employee incomes of which the service charge accounts for a major component.
Fernando noted that despite the low interest loans and moratoriums, many industry players have been compelled to resort to pay cuts although some continue to struggle despite instituting such measures.
"The name of the game is survival," he stated, adding that "we have focussed on training, implementing health and safety protocols, and being ready for tourism to resume; but there has been a lag even in domestic tourism with lower rates."
In his view, the industry will need to form a core local customer base going forward. While stating that domestic tourists have learned that local hotels are "pretty good," Fernando explained that this does not mean they're breaking even: "The industry is trying to maximise the benefits of the moratoriums and concessions but the going is still tough despite this."
Responding to the lack of long-term plans to engage domestic tourists beyond times of crisis, he cited their spending power as being a hurdle to overcome.
"Given the operating and construction costs of new properties with payback periods of between eight and nine years, such hotels cannot offer lower rates to appeal to local tourists," he contended.
Elaborating on his view that hotels cannot be treated like hospitals, he explained that people visit hotels – especially higher end properties – to be pampered; as such, safety protocols must be more discreet while all precautions are taken behind the scenes. The name of the game is to balance the need for guests to feel relaxed.
Wellness tourism presents new opportunities, which could lead to rapid revenue growth for the industry in combination with luxury and high end tourism. However, Fernando explained that Sri Lanka isn't positioned for this with India retaining this distinction instead. As such, this is a sphere in which more development is needed.
"We need key USPs in terms of what Sri Lanka stands for," he declared, adding: "Presently, it is viewed as a beautiful destination but there are many other angles that we could pursue for more niche travellers who would return sooner and pay higher rates."
While sustainability is important for the tourism industry to thrive, there have been instances of the natural environment being in jeopardy.
According to Fernando, this is largely beyond the control of the private sector and centres on governance: "It revolves around the overall framework of managing the country, which is where we have fallen short over the last couple of decades in terms of following the law."
"People visited Sri Lanka because it was a pristine destination and there was pent up demand following the [end of the] war, which tapered and no promotion followed," he lamented, asserting that "going forward, we must protect our biodiversity as this is why people visited."
Commenting on the industry's prospects, Fernando stated that he is optimistic for 2021 as there could be a return to normalcy by March: "I am confident that this is temporary and travel will not go away; Sri Lanka will be more popular than ever but we must get our act together and cannot be complacent about the environment and overtourism."
"In the next six months or so, we can position ourselves in terms of the product and development, promotional strategy and so on to take full advantage of that," he concluded.