YOUTH FORUM
Compiled by Savithri Rodrigo
A VOICE AGAINST VIOLENCE
Wathsala Adikari believes that Sri Lanka can lead the anti-war front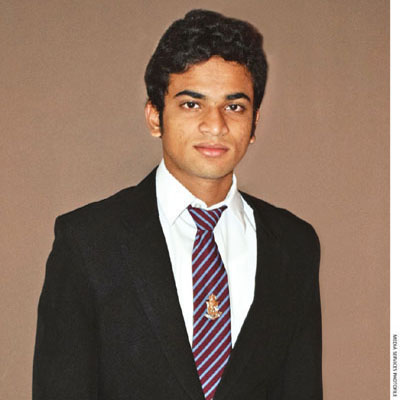 Q: Do you believe that Sri Lanka will be united one day?
A: Having undergone a prolonged period of terror, violence and unrest from which we are yet recovering, I do believe that it will take some time before the country is fully united. We remain divided even now.
As the majority, it is the Sinhalese who should play a major role in reconciliation, seeking the truth and working towards a platform of equal rights for all.
Q: What's the good, bad and ugly here in Sri Lanka?
A: Well, apart from certain problems, Sri Lanka is a great place. It's ideal for those who value nature, freedom and culture. And it is renowned for its hospitality.
But ethnic and political issues remain, and natural disasters are frequent – although I think with good leadership, these problems can be managed. The ugly feature is the lack of an environmentally friendly garbage disposal system.
Q: In your eyes, what are the challenges facing the country today?
A: Sri Lanka is an emerging economy that faces similar issues to others of the same scale. Dealing with economic crises and projecting a positive outlook for foreign investors can be challenging. While it is improving, our infrastructure isn't as yet on a par with other countries like ours.
Another challenge that must be overcome is that some people believe that traditional beliefs must be maintained at all costs so they become narrow-minded and irrational, even though development works well for the nation's future.
Q: How can Sri Lanka retain the talent it has, in your opinion?
A: I believe that the most serious problem is that the state cannot provide better facilities for younger people who are then forced to move abroad. From remuneration to benefits, other countries tend to be better.

The government must take full responsibility for this situation while also making young people aware of the need to retain them by making the prospect of staying in Sri Lanka more attractive. They must be instilled with a respect for our values and love for the country.
Q: Where do you see Sri Lanka in 10 years' time?
A: We'll certainly be better than we are right now even though we may still have issues in some areas.
Students will have more opportunities to enhance their capabilities and the quality of life will be improved for all citizens. There will also be healthier interaction with the rest of the world. We will be a country with better transport and infrastructure facilities, and more technological advancements.
Q: How do you view the twin issues of global poverty and war?
A: Global poverty is inevitable as the income gap continues to widen. However, if people unite to help the poor, lives will be better all-round. Everyone must play their part.
Sri Lankans have experienced the brunt of war, and continue to live through the negativities and suffering it brought upon them. Having had firsthand experience, I believe that Sri Lanka can be a strong voice against terrorism and demonstrate to the world that war is not the answer – we need unity to achieve world peace.
Q: Who is responsible for climate change and global warming?
A: Definitely everyone – because every little thing each of one of us does impacts the planet. This is an extremely serious issue, which people are yet to realise the gravity of.
Governments and related organisations must not only spread awareness but be very strong in advocating change. And as more developed countries emit harmful gases into the atmosphere, it is they who should be held accountable to reduce the negative impacts.
Q: How do you view the growing importance of social media?
A: It's versatile, exciting and at the same time dangerous because it could be used for good purposes or to create conflict.
Facebook and Twitter have become socially integrating phenomena but it is important that these sites are used for what's morally right.
Thinking rationally and positively can inculcate a good mindset in people, and this is what social media can do.