YOUTH FORUM

Compiled by Savithri Rodrigo
UNITY ABOVE ALL ELSE
Ashane Francis envisions a future in which peace is all-encompassing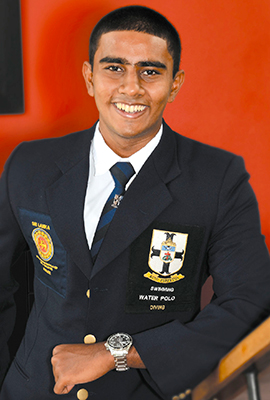 Q: What's the good, bad and ugly here, in Sri Lanka?
A: There's good, bad and ugly in every country. The 'good' in Sri Lanka is that our people are extremely hospitable. I've travelled the world, but not even in the US have I come across such hospitable people. Sri Lanka's unique culture is also a good thing.
The 'bad,' however, overwhelms the good. Corruption and a lack of maturity are deficiencies among Sri Lankans. I believe that if one needs to be disciplined and mature, a proper education, values and guidance ultimately pave the way to assuage these bad points.
Offering prominence to people who are undeserving of such positions is the 'ugly' in Sri Lanka. For example, rich people are treated differently, or better than others. Equality and mutual respect would be two values I'd like to see in my country.
Q: What are the challenges facing the country, in this day and age?
A: Income disparity, social injustice and corruption would be the main challenges. While we are endowed with many resources, we don't optimise them.
The Sri Lanka Railway Department, for instance, is a monopoly. But it's a loss-making entity, primarily because we don't utilise and develop its inherent advantages. Instead, we remain ingrained in old systems, providing social welfare when our country needs economic development.
Corruption is also rampant. We need a transparent government that enables the community to understand its goals and objectives, which unite citizens to develop the country together.

Q: So how can Sri Lanka retain the talent that it has?
A: While most students venture abroad for studies, very few return, mainly because we cannot provide the protection and security they deserve. A strong higher education system can retain talent, and students must be made to understand that they must return to serve the country one day.
Q: Do you believe that Sri Lanka will be united, in the future?
A: I certainly believe so, provided we develop mutual understanding and respect for every human being. Racial discrimination and gender inequality should be eliminated. No country can develop without unity, as can be seen in examples around the world – and it is that unity that will spur development in Sri Lanka.
Q: Where do you see Sri Lanka in 10 years' time?
A: I would like to see Sri Lanka retain its inherent charm, but be blessed with a better economy. A perfect example is Singapore, a small country that's rich in values and has one of the strongest economies in the world. I want to see Sri Lanka being a destination that the world will enjoy, where young people thrive in a good education system and a country with zero corruption.
Q: What are your expectations of the world, and its people?
A: I want everyone to live in peace and harmony, although there's anger and resentment among citizens when they experience war. Sri Lanka is fortunate that it ended a war of nearly three decades, and we can strive to live in a peaceful environment. I hope this is reflected across the world as well.
There is nothing more important than peace; because unless there's peace, a country cannot prosper. I expect people to be true citizens, loyal to their country and, most importantly, love one another. A united country can do wonders.
Q: How do you view the growing importance of social media?
A: It's an imperative in today's world. It is more important than it was yesterday, and more important tomorrow than it is today.
While mankind has evolved to ensure that anything can be seen or heard in a matter of seconds, it is vital to note that information is now accessible anywhere in the world.
Politicians, celebrities, sportspeople and even regular citizens from diverse backgrounds use social media effectively. Social media enables everyone to be connected and updated. Technology remains the backbone for development, in every sense.
Q: Where do you see the world in 10 years' time?
A: The world will depend on technology, for its survival. We may not all agree, but that is the reality. There will be more robotics and improved communication methods, and mobile information will hold sway.
But I would like to see values exist in the world, and people spending time doing what they love – and being passionate about it, while not allowing technology to take away their freedoms.