WORST FLOODS IN OVER A DECADE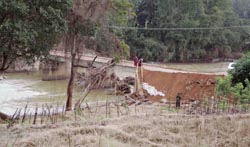 The recent floods have spread to several parts of Sri Lanka with a death toll of over 170 people as of now. More than 1,800 homes have been affected and nearly half a million people displaced with another 112 reported missing.
While the rains continue, several towns lie under 18 feet of water and others have suffered from mudslides. The residents of areas surrounding the banks of three major rivers – the Nilwala in the south, the Gin in the west and the Kelani – have been asked to evacuate due to the risk of rivers overflowing as a result of continued showers.
The tri-forces, Disaster Management Centre, business organisations, and other voluntary associations and individuals have come forward to help and support those affected, while India, among other nations, has also been providing food supplies to flood victims.