WORLD TRADE PROSPECTS
PROTECTIONIST ERA ON THE CARDS?
Samantha Amerasinghe evaluates the international trade outlook for the 'Trump era'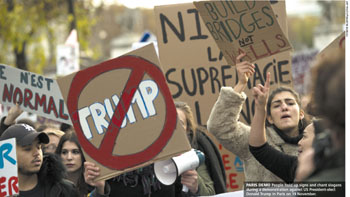 Donald Trump's election as the next President of the United States of America comes at a time of heightened uncertainty and weak global growth. Of the major policy decisions and dilemmas that will impact this region, the US President-elect's protectionist trade and foreign policy platform is the key uncertainty for Asia while it's too early to judge the potential security scenario in the region.
The US' likely shift to trade protectionism and the possible effects of existing political alliances in Asia are two key areas of concern.
But how much of Trump's rhetoric on the campaign trail will eventuate?
The president-elect has pledged to place 'American workers first' in any policy decisions on trade in particular. His seven-point plan on trade policy includes withdrawing from the Trans-Pacific Partnership (TPP) and labelling China a 'currency manipulator.' And his stance on global trade may be another potential point of friction between him and mainstream Republicans in Congress.
Trump made trade protection and the renegotiation of agreements to support US manufacturing a key priority during his election campaign. But 'protectionism' has slightly slipped off the radar since then, with his focus shifting to developing infrastructure and boosting growth. That's not to say that Trump's strong protectionist tendencies have faded.
Since the global financial crisis, Asia has continued to grow robustly despite sluggish growth in the West. Asian economies' potential exposures to trade and investment flows have also declined rapidly over the past decade. Yet, a more protectionist stance in the US – resulting in a sharp drop in trade growth – would be a major risk factor for many Asian economies.

A difficult period lies ahead for what many consider the world's most important relationship – between the US and China.
As market concern rises over the label, Trump has made it clear that he would brand China a 'currency manipulator' on the first day of his presidency, and impose 45 percent import tariffs on the Chinese whose leadership has expressed a readiness to work with the US President-elect to "build a new paradigm for the relationship between major powers."
But China is likely to adopt a wait-and-see approach in the early days of the Trump administration.
With the likely demise of the TPP and potential withdrawal of US security commitments to Asian allies, China may gain more flexibility in the Asian region. Trump will need to deliver on his election promises, and is likely adopt a tough stance and push through higher trade tariffs on the Asian giant to seek concessions.
A full-blown trade war cannot be ruled out but Trump is likely to impose a 'light' version of trade restrictions with which to at least begin.
Much is at stake. America's largest companies (e.g. Boeing, Apple and Intel) have relied on China as a supplier, manufacturer and customer. China is also one of the biggest buyers of agricultural goods from the US.
The Chinese will be quick to retaliate by either blocking US companies from market access or a swift one-off depreciation of the yuan against the dollar, should Trump impose such tariffs. This is mere speculation for the time being; but given Trump's unorthodox style, it is likely to be a testing time for the world's most populous nation.
A unilateral tariff increase by the United States would deal a heavy blow to China's trade and growth, with its trade surplus in all probability shrinking substantially. To mitigate the fallout from a trade war and given its goal of achieving GDP growth above 6.5 percent, China is likely to respond by increasing stimulus to boost domestic demand and tolerate a weaker currency.
The Asian giant has already begun to reduce its reliance on the US market and diversify trade towards emerging market economies. Trade pacts such as the Regional Comprehensive Economic Partnership – a free trade pact between ASEAN and six other Asia-Pacific nations including China (unlike the TPP) – will become more important if the rest of the world turns protectionist.
China is also promoting trade through its One Belt, One Road (OBOR) (also known as the Silk Road Economic Belt) initiative. Its trade with countries along the OBOR exceeded US$ 1 trillion in 2015 – that's a quarter of China's total trade.
What would China have to offer?
A deal to allow US$ 100 billion of Chinese infrastructure spending in the US is a potential win-win for the United States and China but Chinese subsidies that incentivise local production over imports will be difficult to change.
And what does this mean for US Federal Reserve policy in 2017?
The Fed is likely to remain cautious as it awaits more details of Trump's policies. Inflation being unlikely to pose much of a problem in the near term will help the Fed maintain the status quo and possibly hike rates only once during the year – in December.
More trade protection means higher inflation this year, when Trump's new policies could begin taking effect. How Trump and Congress propose to revamp healthcare reform could potentially hold the key to inflation.