WORKPLACE SUSTAINABILITY
AN INVISIBLE
FASCIA AT WORK
Constructing better work-life and life-work dos – Kiran Dhanapala
Workplace culture is the invisible fascia that's holding things together. But its invisibility often allows this important facet to be overlooked. Expectations of work and its role in our lives have changed after the COVID-19 pandemic, and employers need to take these into account when considering employee wellbeing.
In 2022, Global Talent Trends, which is a LinkedIn global survey, found that what jobseekers wanted most were a good work-life balance (63%), excellent remuneration and benefits (60%), and colleagues and culture (40%).
The survey shows the percentage of candidates who consider corporate culture to be a top priority with European job­seekers emphasising this more strongly: the Netherlands (50%), France (46%), Spain and the UK (45% each) – compared to Australia and New Zealand (47% apiece), Canada (42%), the US (41%), South East Asia (43%) and India (39%).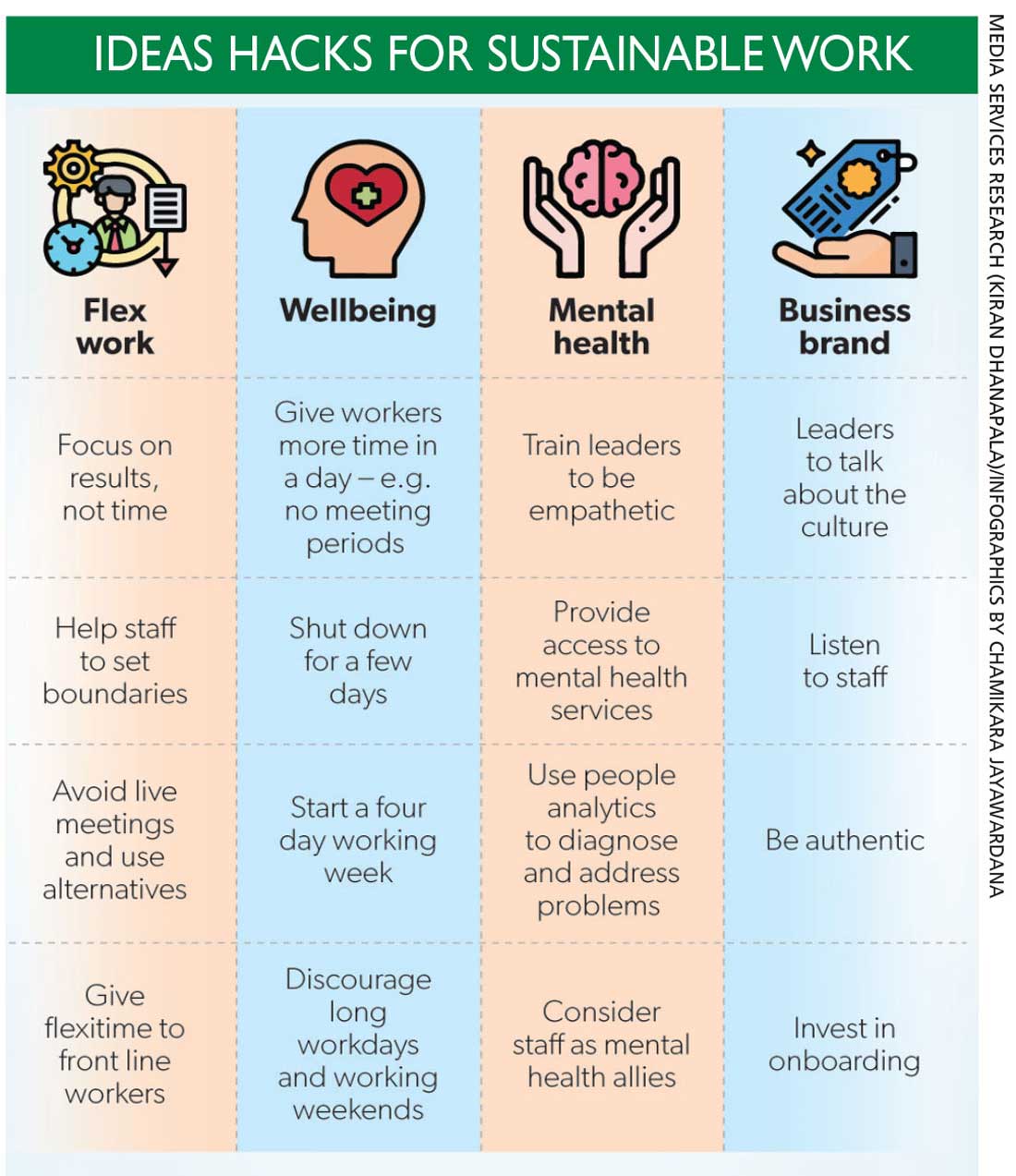 There's much being studied, recognised and written about work culture – particularly in the corporate sector. People want more human centric workplaces while improving productivity. Approaches include work flexibility, wellbeing including parental leave, diversity and inclusion policies, as well as mindfulness, yoga, 'take your dog to work days' and counselling services.
All this varies along the spectrum of the work-life balance – and the life-work balance. This is increasingly being seen in Sri Lanka too; although often, there's little understanding and documentation of the link between wellbeing and enhanced productivity.
There are two other issues impinging on culture – purpose and strategy. Culture and strategy are increasingly being recognised as inseparable drivers of the same engine. Purpose plays a central role in workplace culture by bringing meaning and motivation together to realise productivity.
Workplaces also aim to fulfil their staff and give them greater meaning beyond a paycheque. These issues demand different skills and mindsets from employers.
Sustainable workplaces cater to the usual multidimensional aspects associated with sustainability: inclusivity, egalitarianism and promotion of diversity in all its forms, which includes greater outreach to a fuller spectrum of gender orientations than previously.
It also looks at alleviating the care burden on staff – especially women – by providing facilities (either in-house or off-site) for child and elder care services. At a time when women's participation in the labour force is urgently needed, these services may undoubtedly be a huge attraction.
Profits are looked after by the focus on productivity, activities that are geared to enhance creativity and innovation, and so on. Governance is strengthened by organisational policies that champion employee benefits and inclusion.
What's vital to understand is that it's not about appeasement and choices, or tools and technologies. It's not a case of offering one-off perks, office snacks, training in gender diversity, extra days off to pursue a project or holding a weekly yoga class. It is about addressing the desires and expectations of employees with regard to their lives and lifestyles.
The survey finds the top areas for investment that improve corporate culture include professional development opportunities (59%), flexible work support (48%), mental health and wellness (42%), training managers to lead remote and hybrid teams (35%), and diversity and inclusion (26%).
Flexible work is in demand and it's also creating new types of hybrid employees. 'U-Work,' which is a new flex work pilot by Unilever, has created an innovative hybrid employee, who enjoys a contract worker's flexibility with the security and benefits of full-time worker status.
U-Work staff focus on different assignments of their choice and can do what they wish personally in-between assignments. They get paid for the assignments they work on and also receive a monthly retainer and benefits – irrespective of whether they are working or not. The programme is being implemented in Malaysia, India, the Philippines and the UK with further roll out expected by 2030.
In sectors where this is not an option – such as manufacturing, retail and so on – flexitime arrangements offered include four day weeks, nine day fortnights and staggered shifts, to allow for more choice and control over work schedules.
The focus on employee wellbeing has arisen from the increasingly blurred lines between work and home lives. It includes empathy, compassion and purposeful jobs, which provide more meaning and motivation to work.
In Sri Lanka, we see some of these practices being implemented especially in knowledge sectors such as IT; and also, in multinational companies that are bringing innovative practices to the workplace.
It will also incentivise an urgently needed increase in women's participation in the labour force. The potential to benefit from these innovative practices and boost productivity remains huge – as is the learning curve for leaders and managers.