WIJEYA PRODUCTS
Wijaya Products walks away with not one, but two accolades at SLIM Nielsen Peoples' Awards 2019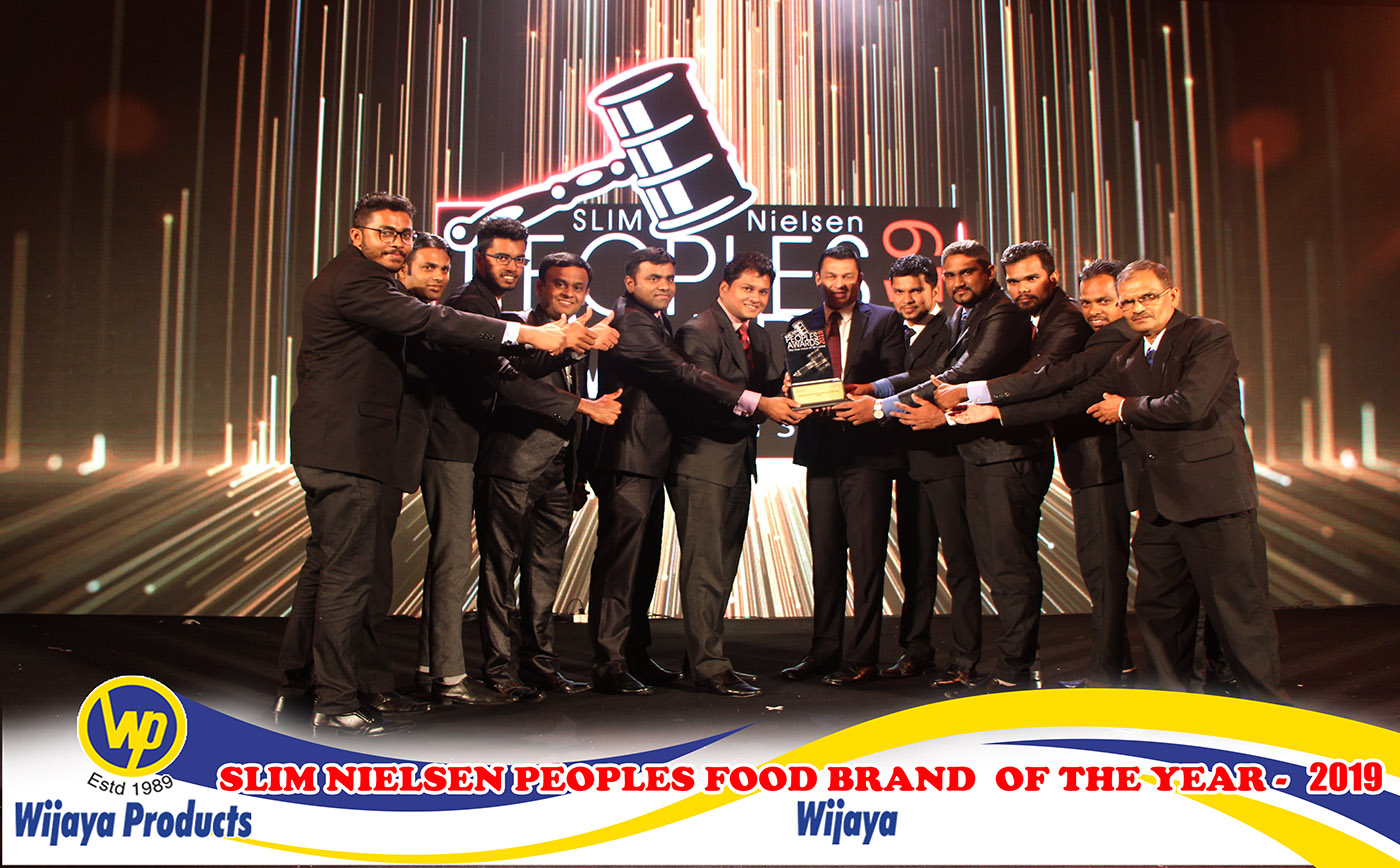 Wijaya Products, a local and internationally well-known house-hold name when it comes to authentic Sri Lankan spices re-affirmed its status in the local market by securing the 'Peoples' Food Brand of the Year' and the 'Peoples' Youth Choice Food Brand of the Year' awards for the fourth and second consecutive time respectively, at the SLIM Nielsen Peoples' Awards, which concluded recently. The Peoples' Awards is organized on an annual basis by the Sri Lanka Institute of Marketing and Nielsen Lanka (Pvt) Ltd, a leading global information and measurement company. The only one of its kind, the SLIM Nielsen Peoples' Awards are centered wholly around the choices of the people.
The double accolades are a testament to the trust of the consumers in the quality of the brand and its products, especially its range of spices, which include powders such as chilly, turmeric, pepper, cumin, curry; seeds such as coriander, pepper, cumin, fennel, fenugreek, mustard, cardamom, cloves, garcinia and cinnamon sticks. Tea and coffee make up the beverages, whilst the flour category consists of red and white rice flour, kurakkan, undu, table salt and sago. The products in the noodle category are special, Chinese and papadam. Most of the products which bear the brand name are naturally grown in a 1000-acre plot of land owned by Wijaya Agro (Pvt) Ltd.
Having started small in Kalutara in 1989, Wijaya Products now boasts over 1100 employees and is responsible for the manufacturing and marketing of 100% authentic products under four primary categories – Noodles, Flour, Beverages (Tea and Coffee) and Spices. All products by Wijaya Products are produced and manufactured in adherence to the highest health and safety standards. As a means of promoting a healthy lifestyle for their consumers, the company has plans in motion to launch Wijaya Leisure to provide customers with the relaxation and rejuvenation they require.
In 2018 the company secured the CNCI Top 10 Award for the 5th year running, whilst Managing Director, Mr. Aruna Kothalawala was the gold award winner at the Provincial and National levels in the Extra Large category at the Sri Lankan Entrepreneur of the Year – 2017.  Wijeya Products (Pvt) Ltd was named the winner of the CNCI Award in 2015 and placed 3rd in the Large Scale Manufacturing category at the National Productivity Awards in 2014.
The Managing Director Mr. Aruna Kothalawala stated, "The secret to the success of Wijaya Products lies in our whole-hearted desire to provide our customers with nothing but the best. We are committed to the task of bringing authentic local products and flavors to the citizens of Sri Lanka. These awards are the recognition we receive for our hard work and dedication. On behalf of all of us at Wijaya Products, I wish to thank our loyal customers for honoring us in such a meaningful and prestigious manner. We also offer our gratitude to SLIM and Nielsen for organizing an event where the voices of the people take precedence above all else".