WAR ON GRAFT
FEAR IS NOT THE ANSWER
Rajika Jayatilake takes stock of China's efforts to combat corruption by instilling discipline
American author and salesman Zig Ziglar once said: "We need to understand the difference between discipline and punishment. Punishment is what you do to someone; discipline is what you do for someone."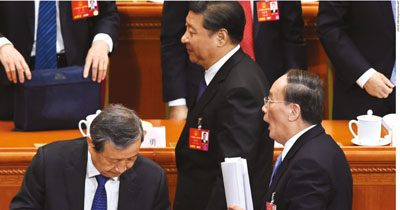 The Chinese government is changing course from punishment to discipline in order to manage the rampant bribery and corruption that's plaguing the world's second-largest economy.
When President Xi Jinping assumed office in November 2012, he launched a widespread anti-graft campaign, believing corruption was the "greatest threat" to China. Xi's priority is to reestablish the Chinese Communist Party's (CCP) authority over its 90 million or so members. The party faces a major challenge of control in the face of stark abuse of power among officials at all levels.
Chinese government statistics reveal that since 2012, over one million state officials have been disciplined or imprisoned. Media reports say the highest-ranking government official ever charged with corruption in China is former security chief Zhou Yongkang. Once among the nine most senior politicians in China, Zhou was expelled from the CCP in December 2014, arrested and imprisoned for life on charges of corruption. The charges included the abuse of power, amassing wealth and leaking state secrets.
In January last year, the head of the National Bureau of Statistics Wang Bao'an was fired along with 300 staff. He was charged with corruption.
In the post-2012 era, seniority offered corrupt officials no cover. Fear was rife about who would be next. Officials were whisked off following high-profile public appearances or nabbed at airports, conferences and weddings.
Author and Director of the China Studies Initiative at Georgia State University Professor Andrew Wedeman has noted that a "major goal of an anti-corruption crackdown is to demonstrate that the risk of being caught is both real and higher than widely assumed." This phenomenon led to a new expression being added to the Chinese lexicon – miaosha or 'instant kill' – to describe this swift fall from grace.
But pragmatically, the campaign discouraged public officials from engaging in graft, creating widespread resentment among them. It also propelled a discernible change of strategy in China's anti-corruption drive. To steer a slowing economy with understanding, there needs to be honesty in economic statistics.
So the Communist Party is now focussing on reforming entire departments in an attempt to inculcate a basic sense of integrity and honesty.
For many years, investors in China refused to accept the integrity of official statistics, claiming they had a 'wind of falsification and embellishment.' At the time, complaints of manipulated statistics were dealt with by the government's Bureau of Statistics. But now, the CCP is directly involving itself in obtaining clean data.
Recently, the Central Commission for Discipline Inspection (CCDI) – the internal anti-corruption monitoring unit of the Communist Party – identified fake economic data from two provinces (Jilin and Inner Mongolia) and criticised it officially. The CCDI also noted that the head of the China Insurance Regulatory Commission (CIRC) Xiang Junbo is suspected of "serious disciplinary violations" – meaning bribery.
With the economy having slowed, the CCP cannot afford to distract investors. The powerful chief of CCDI Wang Qishan hopes that with the CCDI focussing on the finance sector – which is critical to economic reform – officials will allow their better judgement to direct them on what is right rather than be propelled by the fear of punishment to abstain from wrongdoing.
In his view, the party must learn ways to eradicate corruption from traditional Chinese culture.
Quoting Confucius, Xi said "govern with virtue and keep order through punishments," and urged officials to be honest and only use force to maintain stability. In his most recent book, Xi quotes a 2nd-century Han dynasty official: "Those who know the law, first apply it to themselves and then to others."
Meanwhile, the party is scrutinising bureaucrats' private lives, requiring them to report major changes in their lives. An internal party regulation specifies how many vehicles (and their size and value) officials are allowed to run depending on their rank and position, as well as the number of secretaries and security detail. The 1940s rule against graft in the Maoist period is now being revived to clean up deeply entrenched corruption within government.
Critics of Xi's campaign claim that corruption is a 'necessary evil' to drive economic growth and prosperity. But the president contends that being "anti-corruption will not affect economic development. On the contrary, it will make the growth healthier." It's an opinion that is upheld by the World Bank, as well as other multilateral lending and development organisations.
Singapore is a role model for China. By adopting positive methods such as high salaries for civil servants, then prime minister Lee Kuan Yew kept corruption at bay and the economy rose to unimaginable heights.
If China can succeed in the transition from fear of punishment to real moral development, Xi's efforts would be a true cultural revolution. China would then become a role model for other countries struggling to control corruption.