VISTARA
VISTARA ARRIVES IN SRI LANKA, INAUGURATES MUMBAI-COLOMBO SERVICE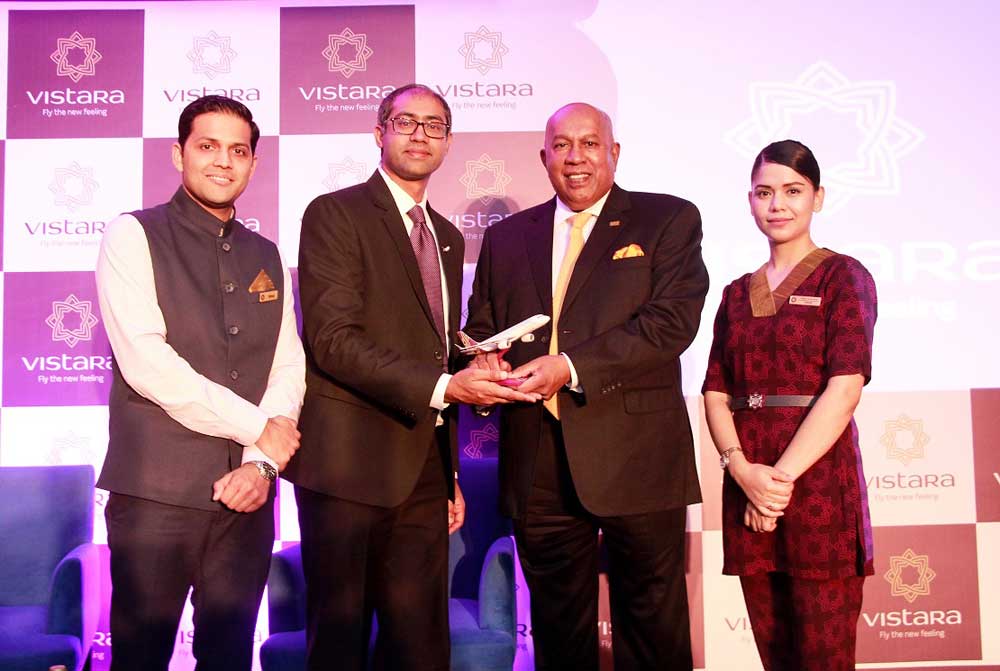 Colombo, 25 November 2019: Vistara – India's finest full-service carrier and a joint venture of Tata Sons and Singapore Airlines – today inaugurated service to Colombo, Sri Lanka. The airline now flies daily (except Wednesdays) between Mumbai and Colombo, making it the first to offer the choice of Premium Economy Class for travel between India and Sri Lanka, in addition to Economy and Business Class.
Passengers on Vistara's inaugural flight from Mumbai were welcomed in Colombo with garlands and Sri Lankan sweets, as a special troupe performed the traditional Kandyan dance in celebration. Vistara's chief guests for the occasion, Dr. Sushil Kumar, First Secretary – Economic & Commerce, High Commission of India in Sri Lanka, Mr. Rayhan Wanniappa, Director – Air Transport and Economic Regulation, Civil Aviation Authority of Sri Lanka and Mr. Ruwan Waidyaratne, Executive Director, Hayleys PLC, graced the occasion.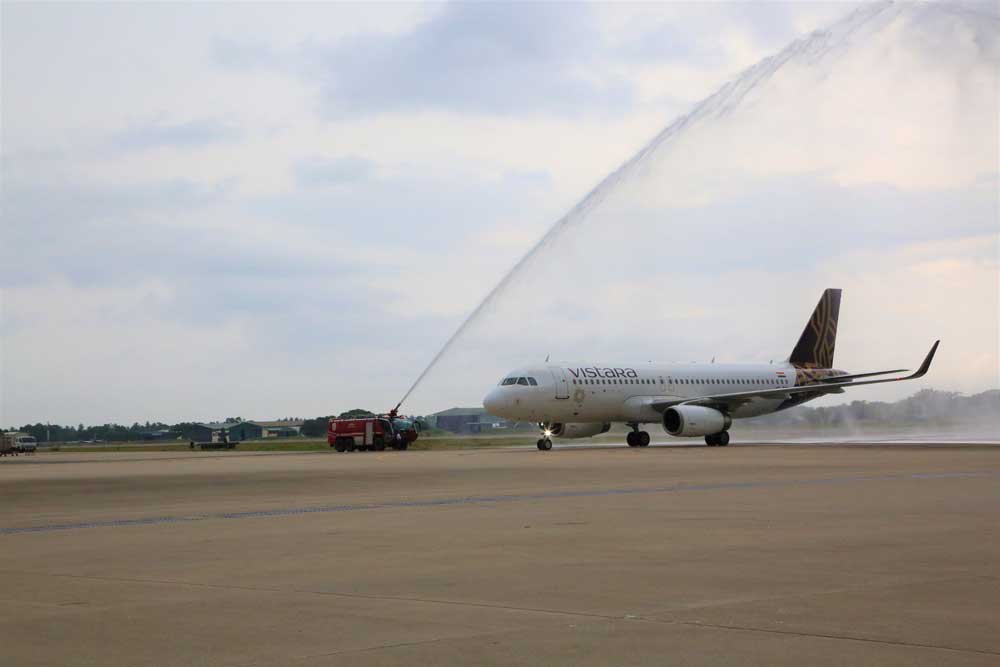 Mr. Vinod Kannan, Chief Strategy Officer, Vistara, said: "We are very happy to step into another new geography with flights to Sri Lanka, a nation with enormous potential for tourism as well as trade. To Sri Lanka, we introduce India's only five-star airline that's committed to making a mark across the globe with a world-class product and impeccable service delivery. We are confident that travellers will enjoy the unmatched hospitality when flying the 'new feeling' with Vistara."
Vistara has appointed North South Lines Pvt. Ltd., a fully owned subsidiary of the iconic Sri Lankan conglomerate, Hayleys PLC, as its representation company in Sri Lanka.
The airline inaugurated its international operations in August 2019 with Singapore as its first destination, followed by Dubai, UAE and Bangkok, Thailand. In the last seven months, the airline has expanded its fleet and network by close to 50% each and has flown around 4.5 million passengers. Vistara's fleet size is set to almost double by the end of the current financial year ending March 2020, when compared to the size at the start of FY19-20.
Vistara is India's highest-rated airline on Skytrax and TripAdvisor and the winner of several 'Best Airline' awards. It has consistently raised the bar for operations and service delivery in the Indian aviation industry in a short span of time to be today known as India's only five-star airline (per 2020 APEX OFFICIAL AIRLINE RATINGS™). Vistara continues to grow rapidly across India and abroad, as it is poised to induct as many as 56 narrow-body and wide-body aircraft over the next four years, including 50 aircraft from the Airbus A320neo family for domestic and international short and medium-haul operations and 6 Boeing B787-9 for long-haul international operations.