VISION CARE
Vision Care reopens new look Vision Care store in Anuradhapura preceding their latest branch
16th August 2019 Colombo: Situated at a prime location in Anuradhapura, the newly-remodelled Vision Care branch was reopening in a ceremonial manner recently. Located at No. 25, 4th lane, Abhaya Place in Anuradhapura, the remodelling reflects a fresh new look to offer customers a better service backed by advanced technology in eye care. The market leader in eye care products, Vision Care has earned a reputation as one of the best eye care solutions providers in Sri Lanka while also importing and distributing branded and quality-based products on par with international product ranges to infuse an innovative and modernized approach to ensure that customers receive world-class eye care. Vision care has pioneered the introduction of the best range of eyewear brands recognized globally.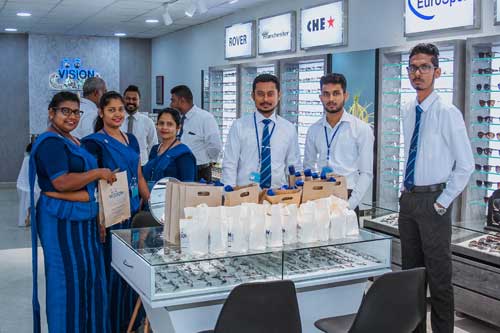 High quality, high precision contact lenses, optical and ophthalmic products are available at the reopened Vision Care outlet. Fashion savvy shoppers can also select a host of alluring frames and sunglasses featuring the world's top brands from the Milan based, Luxottica Group, being the largest eyewear company in the world. 
Vision Care also proudly established its most recent branch at Medihelp Hospitals located at 246 Galle Road in Idama, Moratuwa. Opening of the new outlet was presided over by officials from Vision Care and Medihelp Hospitals. A popular hospital for the residents of Moratuwa, Vision Care has entered into a strategic partnership with Medihelp Hospitals to enhance the hospital's eyecare offering. Vision Care is focused on expanding its optical services to a wider majority of areas covering all major districts in the country.
Both, the Moratuwa and Anuradhapura outlets, offer specialised services such as primary eye examination, refraction, contact lens assessment, eye pressure diagnostics, laser treatments on appointments, hearing aids and all other related services.
With 27 years of service excellence, Vision Care's curated range of high quality branded sunglasses and frames offer a host of attractive designs to suit every requirement, and preference. Vision Care also offers the service of experienced eye care professionals to examine eyes, incorporating state-of- the-art equipment to diagnose the vision problem with high precision.