VESTING AMBITION
Deshabandu Bernard Botejue
Bernard Botejue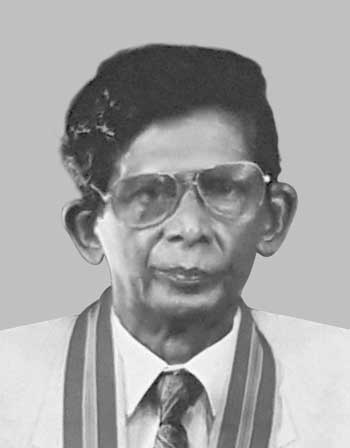 So many anecdotes of enterprise recount that 'single moment' when careers take a turn and an idea takes hold that is transformed into an entrepreneurial exercise. The impetus to the founding of Bernard A Botejue Company – which would later be popularly referred to as Bernard's – could well pass for an example of such a moment.
Deshabandu Bernard Botejue started out in life as a library assistant at the Ceylon Medical College but it was a posting as a supervisor at the Ceylon Hosiery Company that provided the spark for his venture into hosiery manufacturing.
Armed with borrowed capital, one knitting machine and two sewing machines, he set up shop in 1948 with a team of six including himself, in a zinc roofed shed to manufacture men's vests that were good enough to compete with the imported British equivalent.
In the beginning, they were tough times indeed. It was also a time when imports were popular and many preferred the 'made in England' tag. But undaunted, Botejue pursued his ambitions and in a matter of 12 months, he had grown his cadre to 38.
His son recalled in an interview that "the bleaching of the fabric was done in big tubs with firewood and manual labour… His finger nails were often blue and orange – the different colours of the chemicals." They were difficult beginnings: sleeping on a donkey bed beside the machines, he was the knitting machine operator as well as the delivery man.
Botejue's marriage provided a fortuitous alliance as his wife's business acumen proved a considerable asset to his dreams of success. The business expanded into ladies' blouses and other garments, including sportswear and football jerseys, and new machines were brought in to turn out knitted garments.
Looking back, and considering his legacy and contribution, what stands out is the opportunity his eponymous enterprise has made possible – the chances it has taken on humble men such as himself – a marketing manager who started out as a cutter, a financial controller who joined the company as a petty cash clerk at Kolonna and whose parents were village farmers.
When he passed away in 1998 aged 84, his vest manufactory had stretched to businesses that encompassed apparel for export, embroidery and printing, active wear, travel and a business park. Bernard Botejue has come a long, long way from simply manufacturing a vest to rival a British brand.
Bernard Botejue: vesting a vision through hard work and ambition.