UTILIZING SOCIAL MEDIA FOR REAL ESTATE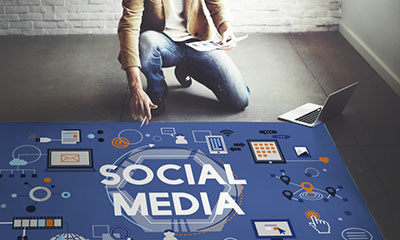 Whether you're a seasoned real estate agent or someone who's looking to sell or rent their property, regardless of your status, if you're in the real estate industry utilizing social media is definitely a must, especially if you plan on keeping up with the customer's rapidly changing preferences. The drastic transformation of technology has made man closer to the internet; a place man now goes to get almost everything done and in the comfort of one's own home. With real estate being such a humanized industry, understanding your target market, analysing their changing needs and catering to exactly what they need is vital in order to make a successful deal.
How Social Media Can Benefit Realtors
The benefits of incorporating social media when promoting properties are incalculable. We have already highlighted and educated our readers about the benefits and ways of promoting real estate through digital media platforms in our earlier posts. So let's look at the ways you can promote real estate through social media and gain the most out of it with the minimum amount of time spent.
The most significant feature of social media is that many people of all ages are hooked up to it, predominantly for networking purposes. Social media seems to be the one hub where friends and family continuously communicate. Therefore in order to make sales successful, it is crucial that you make use of platforms where people gather.
Wide Exposure
The primary objective of promoting a brand or a product online is to receive as much as online visibility. The internet has the capability to capture a larger number of audiences around the globe. Through social media networks such as Facebook, Twitter and Instagram, realtors are able to reach many property seekers and investors effortlessly. Social media offers a far wider exposure to potential customers compared to traditional media outlets, while also costing far less in the process.
Building Your Professional Reputation
Social media can help real estate agents and companies to position themselves as industry experts, allowing them to build a stable reputation in the long term. By sharing the latest real estate news in your location, providing updates about the rapidly changing trends in the industry and by providing relevant information about the industry, you appear to be an industry expert, which may benefit you in succeeding against your competitors.
Building Your Network
Since social media is known for bringing people together, it is undoubtedly one of the best ways to network and connect with new customers. By working towards increasing your fan base or the number of followers, the chances of making them your prospective clients is much higher. What is special about using social media to promote your business, in lieu of marketing it with the support of traditional advertising techniques, is that you can define your niche, narrow down your target market, understand what exactly they are looking for and cater to these needs effectively. This reduces the time and money that you spend on looking for clients through offline portals.
Dos And Don'ts
When switching to social media networks, in order to promote your real estate business or properties you wish to sell or rent, it is important to first understand the specific networks that your prospective customers are using. In Sri Lanka it is quite evident that Facebook, LinkedIn and Instagram are the most frequently used platforms. Twitter might not be an effective platform if you are hoping to make fast sales. Once you have identified the most effective platforms, understand the type of content that has the highest capability of reaching the greatest number of people easily. It is important to pay attention to content that gains you the highest attention and concern. Using certain social media analytics, realtors are able to determine important factors such as the most engaging content, prime times of posting content, the age groups or the specific genders that read your posts. It is important to post content that is a combination of both educational and entertainment.
Common Mistakes to Avoid When Using Social Media
If the posts reflect you or your company as being arrogant and ignorant, then social media can work against your marketing effort.
Sometimes people on social networks can be rude. However, if you delete or respond negatively to their comments, things might just get worse.
Since social media is predominantly famous for entertainment purposes, think about how you can promote yourself in the most creative ways. Understand that even though informative content works well with Facebook, Instagram is an application for photos and videos. Schedule your posts according to the speciality of each platform.