US ELECTION
THE
BIDEN

PRESIDENCY
Saro Thiruppathy takes a sneak peek into what's on President-elect Joe Biden's agenda
On 7 November, as Americans and the world held their collective breath, former Vice President Joe Biden of the Democratic Party inched his way across the finish line. He was declared the winner of the US presidential election with 290 electoral college votes – and more than 75 million (50.7%) popular votes – after he was projected to win Pennsylvania.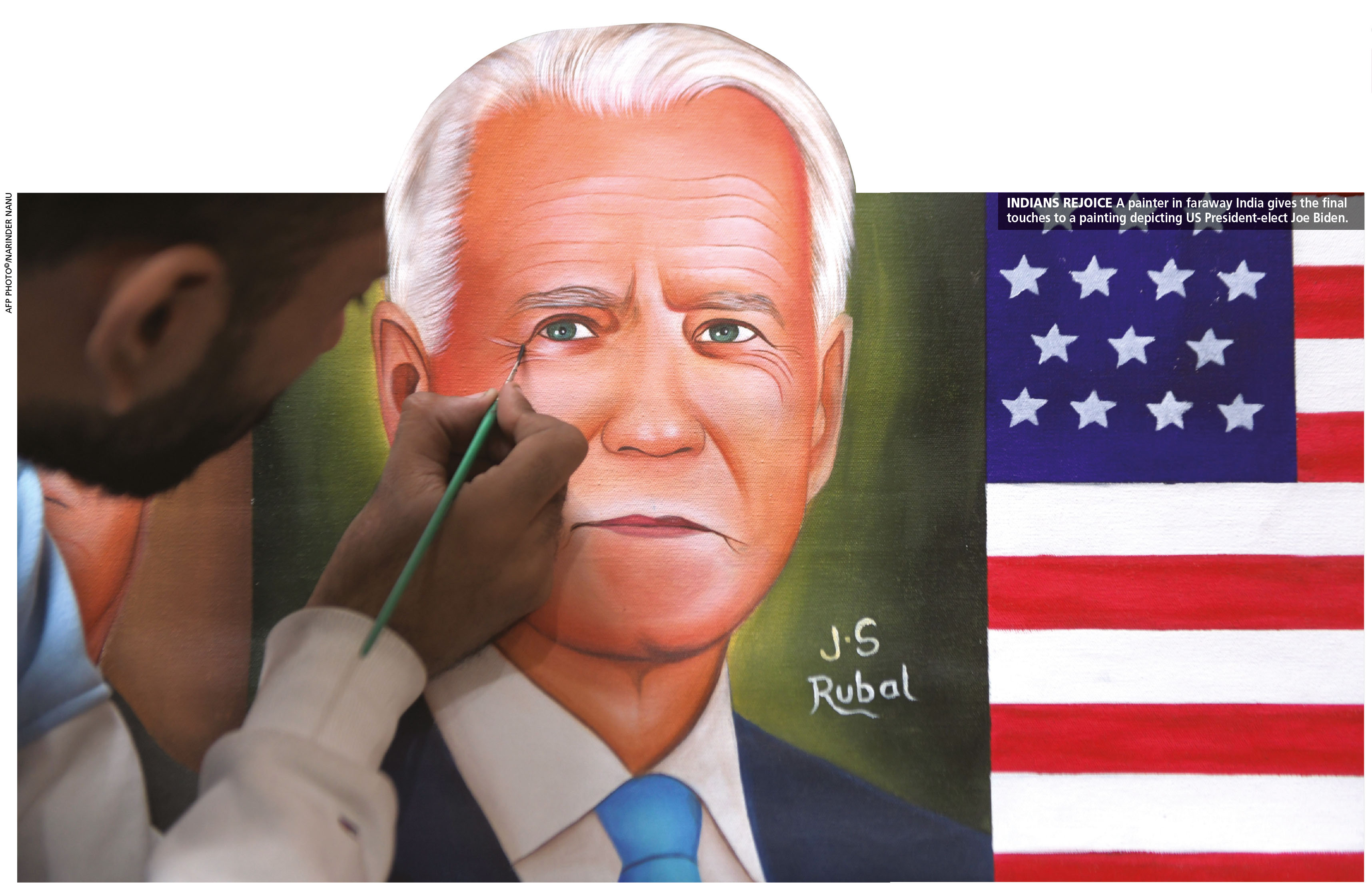 A week or so later, the electoral count rose to 306 with all state election projections completed.
The consequences would have been extremely unpleasant if he had lost, not only for America but for the world as well.
Though President Donald Trump only has 232 electoral votes, he secured nearly 48 percent of the popular vote. There are many reasons why Trump lost the election and they contributed to ensuring that Biden won the presidency. However, we won't dwell on Trump's term of office in this column but instead, focus on what can be expected from the President-elect in the next four years.
Meanwhile, there were a number of firsts in the Biden-Harris win because the former Vice President polled more votes than any other contender in a US presidential election – he even surpassed Barack Obama's record of 69.5 million in 2008.
And Vice President-elect Kamala Harris is the first woman of colour – of Indian and Jamaican ancestry – to be elected to that post. Her achievement has proved to women the world over that the glass ceiling is meant to be broken.
But Biden has inherited a hornet's nest. Trump and his cohorts are likely to harass his administration until 2024 when the outdoing president may well make another bid for the presidency. Meanwhile, it will serve Biden well to remember that America is deeply divided pretty much down the middle – Trump's 71 million plus popular votes bears testimony to this.
Trump has systematically promoted divisiveness between the American people in terms of race, religion and tolerance, and ripped apart the social fabric of the US. Biden will need patience and understanding to bridge this divide.
DOMESTIC ISSUES From day one, the incoming president will need to bring the COVID-19 crisis under control.
As president, Biden will set up a pandemic testing board, which will be a public-private partnership in charge of increasing the production of testing kits and lab requirements etc. COVID-19 testing, treatment and vaccines will be provided free to all Americans.
Next is the economy. He is expected to up the ante on enforcing tax legislation and also strengthen workers' rights. But Biden may not be able to immediately revoke many of Trump's tax cuts for the wealthy and corporates, which have been signed into law, since it would need to be approved by Congress.
Biden also plans to ensure that government agencies purchase US manufactured goods and services to help boost GDP, and reverse the pandemic induced recession. And he will likely try and ban the import of assault weapons.
As President, he will work on getting the Equality Act, which adds anti-discrimination protections on sexual and gender identity, passed within his first 100 days in office. An executive order to promote diversity and inclusiveness in the federal government will be passed and a new White House Council on Gender Equality is expected to coordinate policies relating to women's rights.
There are an estimated 11 million immigrants living illegally in the US and Biden has promised to submit an Immigration Bill to Congress on his first day. He also intends to reinstate the Deferred Action for Childhood Arrivals (DACA) programme for the 'Dreamers' and immediately halt deportations within three months.
A task force will be established to reunite more than 500 children who were separated from their families at the US-Mexico border under Trump's orders. Biden also plans to reverse the travel ban that restricts visitors from mainly Muslim and African nations.
FOREIGN AFFAIRS Joe Biden will rescind Trump's decision to pull out of the WHO and rejoin the Paris Agreement. He also wants the US to reenter negotiations under the Iran nuclear deal (Joint Comprehensive Plan of Action).
Biden will talk with allies and rebuild US credibility abroad – Trump has decimated foreign relations with his 'America First' policy. He plans to extend the period of the US-Russia strategic nuclear arms control treaty – without it, all restraints on the deployment of strategic nuclear warheads etc. will end and could possibly fuel another arms race.
And the president-elect says he will consult with America's chief allies before taking a decision on any future US tariffs and policies on China.
Biden plans to set higher clean energy goals, ban coal and natural gas leasing on federal land, and limit methane emissions from oil and gas production. There will be an environment and climate justice division within the US Department of Justice to enforce the law against polluters. The president-elect is committed to investing in clean energy and infrastructure including EV charging stations, and he wants all new cars to be electric eventually.
BALLOT MAGIC Through the magic of the ballot, Americans have given themselves and the world another chance to right those wrongs and get back on track.
The Mayor of Paris Anne Hidalgo captured the world's shared sentiments best when she tweeted: "Welcome back America!"