UNION ASSURANCE
Union Assurance Study Reveals Low Saving Patterns Among Sri Lankans
Leading Life Insurer, Union Assurance commissioned a research study with the expertise from pioneer in the market and social research, Survey Research Lanka, with the objective of better understanding the savings and retirement habits of Sri Lankans in order to encourage healthy savings for a financially secure future. The research was further validated by Prof. K.A.P. Siddhisena, Emeritus Professor of the Faculty of Arts, University of Colombo.
Union Assurance takes pride in launching this study to uncover valuable insights and information.
The data collection period for the study was post-covid and pre-crisis, and the sample size was 1,004 people from 9 provinces in Sri Lanka.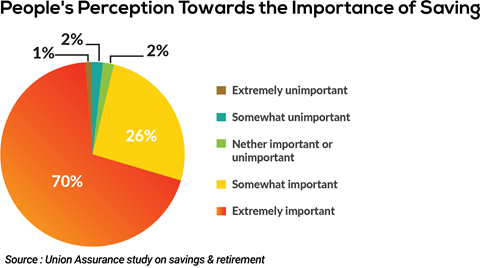 According to the study findings, people have a positive attitude towards saving for the future. An overwhelming 70% of respondents believe that retirement savings are extremely important. However, only 27% of them save an adequate amount, while 21% have no savings yet.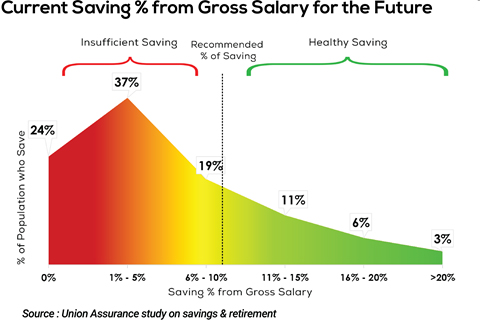 The amount saved by Sri Lankans generally falls well below 10-15% of one's gross salary recommended by financial planners (CNBC, 2019). According to the study, nearly one-quarter of the population has no future savings, while 37% save only between 1% and 5% of their income (which is insufficient). As shown, only 20% of the population has a healthy saving pattern as it is in line with expert opinions on saving above 10%.
It is indeed regrettable that only 48% of respondents said they have a plan to save for the future.
Pandemic Impact on Saving
A significant impact was evident between income earned and saving patterns. As many as 40% of respondents stated that their income decreased to a greater extent, while 49% stated the same about their savings. Only 20% experienced no change in income or savings.
Trust in Life Insurance Companies
More interesting insights gained on trust levels in Life insurance companies as a source of future savings. While 13% said their trust level is extremely high, 41% said their trust level is somewhat high. Therefore, over 50% of the population has high levels of trust in Life insurance.
Financial Safety Net
Life Insurance offers a financial safety net for citizens, particularly during tough times. The stability of your future is largely dependent on your savings. Life Insurance ensures that policyholders and their families are continuously protected.
It is unfortunate that Sri Lanka's household savings rate has steadily declined over the last decade (World Bank, 2021). This is particularly worrying since 12.3% of the population is aged 60 or older, making it the country with the fastest ageing populations in South Asia (World Bank, 2021). Therefore, income insecurity in old age is going to be a serious issue in the future. Hence, there is a need to encourage people to invest in insurance plans offered by Life insurance companies.
In conclusion,
Saving money is important to ensure a secure financial future. Setting a saving target helps indicate how much one should save over time for their future. The sooner one starts saving and investing, the greater the long-term benefit.
Visit www.unionassurance.com for the full report.