UNION ASSURANCE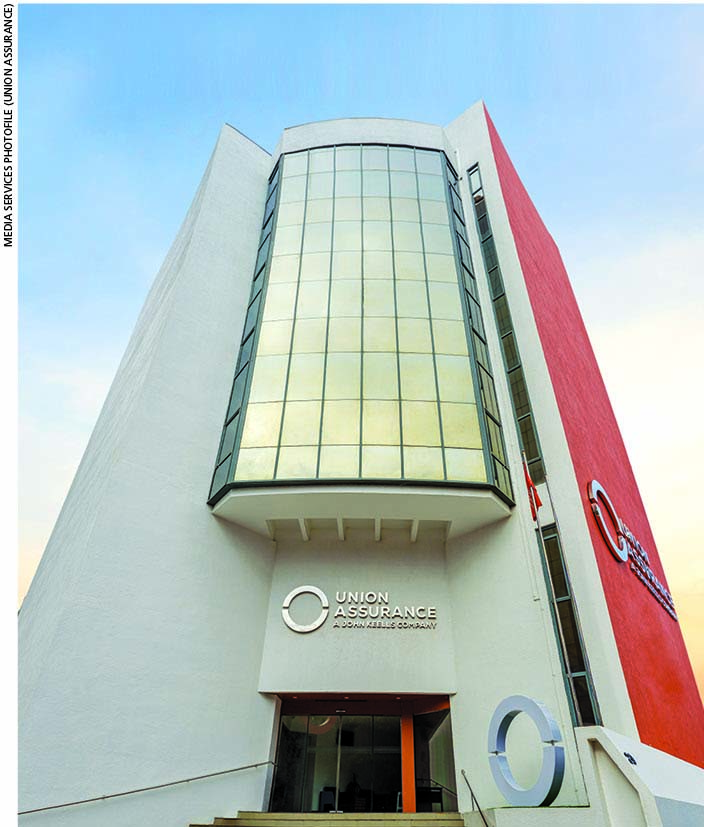 Q: What does it mean for Union Assurance (UA) to be ranked in the Transparency International Sri Lanka (TISL) report 2022?
A: We're very proud of the ranking – especially since at Union Assurance, we believe in all that we do, and transparency and codes of best conduct are inculcated in our systems. Therefore, to have been recognised and awarded for this is a matter of immense pride for the team at UA, and a true reflection of what we do to improve transparency.
At Union Assurance, we continuously improve; and this is evident from UA's progression in the rankings. If you look at the rankings, we were No. 16 back in 2021 and this year, we're at number eight. We're also very proud that we're the first insurance company to have made the top 10.
Q: How does UA adopt policies to counter bribery and corruption?
A: It needs to be mentioned that what is inculcated into all UA employees is our code of conduct. This means that any employee, regardless of his or her seniority, is inducted into this code of conduct. Our code of conduct is designed to guide, assist and protect us, as employees, businesses, brands and stakeholders by ensuring that we always 'do the right thing.'
This set of codes is revised annually, which means that all employees need to sign off on the revised code of ethics on an annual basis. This isn't something we merely report on but principles that are genuinely practised.
When it comes to bribery, corruption or any form of harassment and discrimination in the workplace, the company adopts a strict zero tolerance policy. As a subsidiary of John Keells Holdings (JKH), this also has to do with the tone that's been set from top management.
With JKH being ranked number one in the list, this alone will reflect how the company regards bribery and corruption. Especially since the tone at the top is strong, it cascades down to all JKH subsidiaries and is entrenched into how a company such as Union Assurance conducts itself.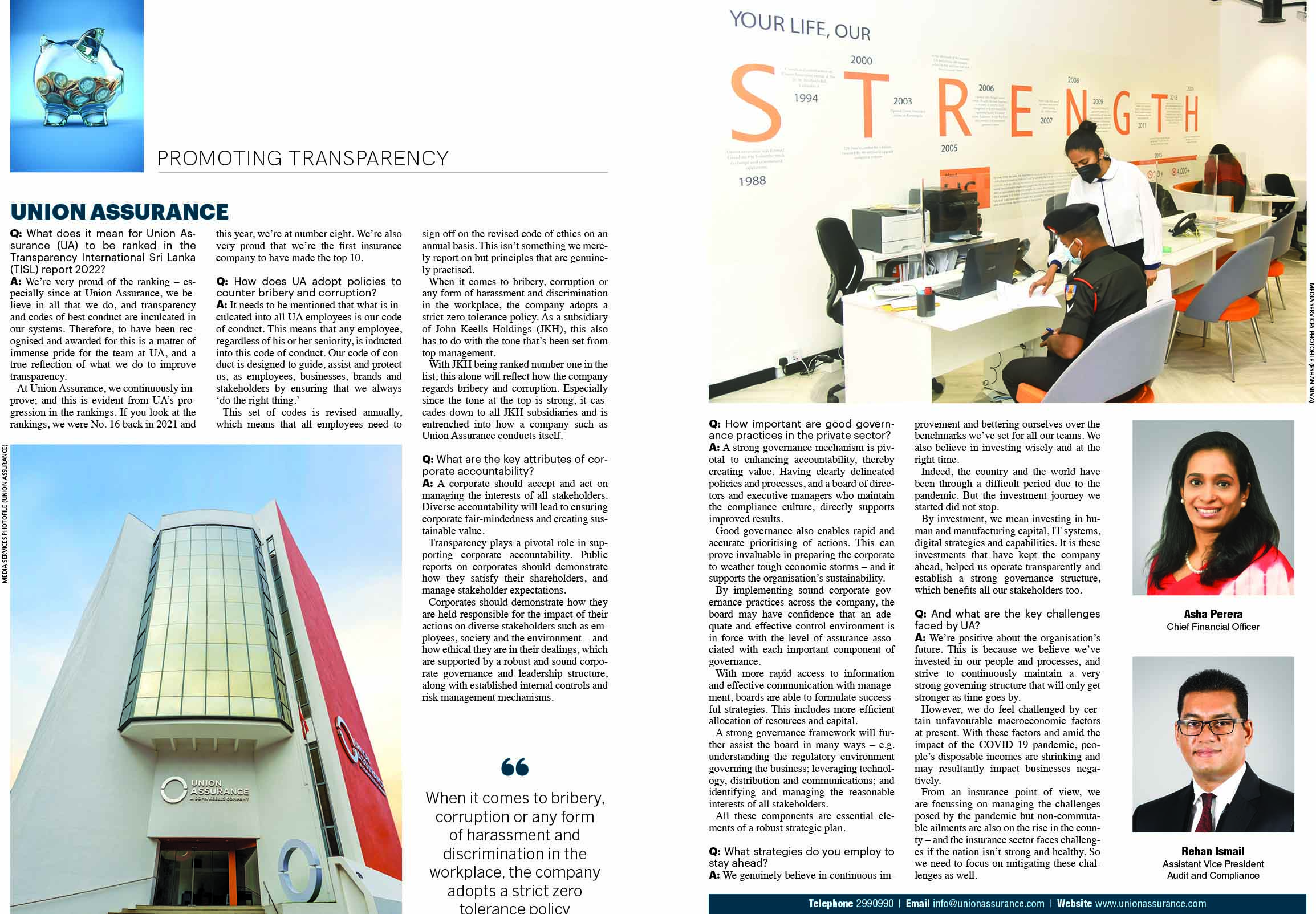 Q: What are the key attributes of corporate accountability?
A: A corporate should accept and act on managing the interests of all stakeholders. Diverse accountability will lead to ensuring corporate fair-mindedness and creating sustainable value.
Transparency plays a pivotal role in supporting corporate accountability. Public reports on corporates should demonstrate how they satisfy their shareholders, and manage stakeholder expectations.
Corporates should demonstrate how they are held responsible for the impact of their actions on diverse stakeholders such as employees, society and the environment – and how ethical they are in their dealings, which are supported by a robust and sound corporate governance and leadership structure, along with established internal controls and risk management mechanisms.
Q: How important are good governance practices in the private sector?
A: A strong governance mechanism is pivotal to enhancing accountability, thereby creating value. Having clearly delineated policies and processes, and a board of directors and executive managers who maintain the compliance culture, directly supports improved results.
Good governance also enables rapid and accurate prioritising of actions. This can prove invaluable in preparing the corporate to weather tough economic storms – and it supports the organisation's sustainability.
By implementing sound corporate governance practices across the company, the board may have confidence that an adequate and effective control environment is in force with the level of assurance associated with each important component of governance.
With more rapid access to information and effective communication with management, boards are able to formulate successful strategies. This includes more efficient allocation of resources and capital.
A strong governance framework will further assist the board in many ways – e.g. understanding the regulatory environment governing the business; leveraging technology, distribution and communications; and identifying and managing the reasonable interests of all stakeholders.
All these components are essential elements of a robust strategic plan.
Q: What strategies do you employ to stay ahead?
A: We genuinely believe in continuous improvement and bettering ourselves over the benchmarks we've set for all our teams. We also believe in investing wisely and at the right time.
Indeed, the country and the world have been through a difficult period due to the pandemic. But the investment journey we started did not stop.
By investment, we mean investing in human and manufacturing capital, IT systems, digital strategies and capabilities. It is these investments that have kept the company ahead, helped us operate transparently and establish a strong governance structure, which benefits all our stakeholders too.
Q: And what are the key challenges faced by UA?
A: We're positive about the organisation's future. This is because we believe we've invested in our people and processes, and strive to continuously maintain a very strong governing structure that will only get stronger as time goes by.
However, we do feel challenged by certain unfavourable macroeconomic factors at present. With these factors and amid the impact of the COVID 19 pandemic, people's disposable incomes are shrinking and may resultantly impact businesses negatively.
From an insurance point of view, we are focussing on managing the challenges posed by the pandemic but non-commutable ailments are also on the rise in the county – and the insurance sector faces challenges if the nation isn't strong and healthy. So we need to focus on mitigating these challenges as well.

Asha Perera
Chief Financial Officer

Rehan Ismail
Assistant Vice President
Audit and Compliance
Telephone 2990990  |  Email info@unionassurance.com  |  Website www.unionassurance.com