AVIATION INDUSTRY  
UNDER THE RADAR: FOR HOW LONG?
Zulfath Saheed views developments in the aviation industry in the aftermath of 4/21
Following the Easter Sunday terrorist attacks, the Civil Aviation Authority (CAA) of Sri Lanka announced that unmanned aerial vehicles and aircraft systems – devices fitting the general description of 'drones' – would be banned over national airspace in the light of prevalent security concerns.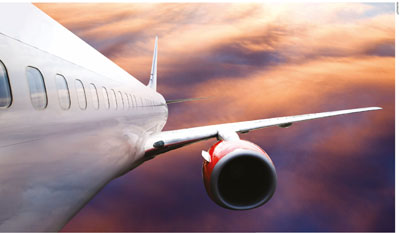 This came as no surprise given the sense of alarm on all fronts and was evidently in the interest of minimising the threat of further attacks.
While tourism took an almost immediate hit in the wake of 21 April and the ensuing instability, which was duly covered by the headlines at the time, the aviation industry was not spared by the impact of 4/21 either.
AVIATION LEVIES The government slashed aviation levies including ground handling fees, aviation fuel charges and the embarkation levy for six months, in addition to temporarily postponing a budget proposal to increase the latter by US$ 10, thereby maintaining the present charge of 50 dollars.
This is a bid to encourage airlines to cut the cost of airline tickets and combine these with discounts offered by hospitality operators in Sri Lanka.
The relevant cabinet paper was signed by Prime Minister Ranil Wickremesinghe. It followed another tabled by the Sri Lanka Tourism Development Authority (SLTDA); the Prime Minister's Office; Minister of Tourism Development, Wildlife and Christian Religious Affairs John Amaratunga; and the CAA.

SLTDA Chairman Johanne Jayaratne told reporters at the time: "In April 2018, 29 airlines were serving Sri Lanka, offering 300 flights a week. However, following the 21 April Easter [Sunday] attacks, connectivity was reduced to 239 flights a week, resulting in a total of 41 flight cancellations, which amounts to a loss of seat supply by 8,000 a week from six countries [and territories] – China, Hong Kong, India, Malaysia, Oman and Thailand."

Furthermore, it is reported that 11 international airlines reduced their flight frequencies to Bandaranaike International Airport (BIA) while one airline withdrew completely. Many of the airlines that opted to reduce frequencies were low-cost carriers.
TOURISM IMPACTS In the six months to June, Sri Lanka recorded 1,008,449 tourist arrivals, which represents a decline of slightly above 13 percent compared to the corresponding period in 2018. The numbers were worse for the second quarter of 2019 (April to June) when tourist arrivals plummeted by 41 percent year on year to 267,849.
The Sri Lanka Tourism Promotion Bureau (SLTPB) announced plans to spend more than Rs. 400 million on a PR campaign along with 500 million rupees for a short-term marketing campaign as part of its strategy to boost international tourist arrivals. SLTPB Chairman Deshamanya Dr. Kishu Gomes reportedly stated recently that "there's a significant increase in arrivals now and we are averaging about 4,000 arrivals a day."
AIRPORT UPGRADE In late July, Minister of Transport and Civil Aviation Deshamanya Arjuna Ranatunga announced plans to launch flights from Palaly Airport in the Jaffna District to major Indian cities beginning in September.
This is set to follow a transformation of the military aerodrome into an international facility – a Rs. 2,250 million project with extensive funding from India to upgrade the domestic airport in two phases. The first phase is currently underway and said to involve the re-laying of a 950 metre runway, which would be extended up to 1.5 kilometres (km) and ultimately 2.3 km as part of the second phase.
Moreover, the revamped airport will reportedly accommodate aircraft in an area of 1.8 square km with flights operating to and from Bengaluru, Kochi, Hyderabad and Mumbai.
MYSTERY FLIGHT Meanwhile, responding to reports on a civilian aircraft landing at BIA, CAA reveals that the aircraft – a type HC-47 Skytrain bearing South African registration number ZS-ASN and operated by Spectrum Air Proprietary, Aviation Services Management, Dubai – had made "a technical stop" at BIA on 6 July.
This was "during its ferry flight from Indonesia to Mumbai with prior approval from the Civil Aviation Authority of Sri Lanka, which was granted in close coordination with the Sri Lanka Air Force, which issues Air Defence Clearance."
CAA asserts that "the purpose of the flight is crew rest and refuelling. Total persons on board the aircraft were three and there is no equipment used for any surveying purpose as declared by the operator in its application. The aircraft… commenced its journey from Broome in Australia and traversed via Bale, Palembang and Banda Aceh in Indonesia to Colombo. Although the operator had initially planned to fly to Mumbai on 9 July, its revised itinerary is to operate the aircraft to Lanseria in South Africa via Malé, Seychelles, Pemba and Beira without any change in the date of departure from Colombo."
"This kind of propeller aircraft… is not capable of flying long oceanic routes without landing at an intermediate point. Furthermore, Colombo Air Traffic Control has confirmed that the aircraft had flown on established airroutes in compliance with the instructions issued by them under the positive control and surveillance of Colombo Radar," it states.