TURKISH AIRLINES
Turkish Airlines World Golf Cup 2018
The Turkish Airlines World Golf Cup is an annual corporate amateur golf tournament established by Turkish Airlines in 2013 which started with 12 qualifying events. In 2017, the tournament became the largest corporate golf tournament in the world with over 8,000 participants from a 100 event qualifying series, which took place in 60 countries around the world. Now in its 5th year, the 2018 Series is aimed to be bigger and better reflecting on the airlines continuously expanding wide network.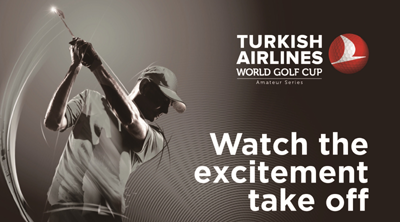 Turkish Airlines World Golf Cup offers corporate and industry experts the opportunity to network while enjoying a round of golf on some of the world's most prestigious golf courses. One winner from each qualifying event will progress to play in the season-ending Grand Final which is scheduled to take place in Belek, Antalya, Turkey in October 2018.
Finalists will arrive in business class luxury on board Turkish Airlines and will be treated to seven nights of all-inclusive accommodation in the five star resort. The 36-hole Grand Final will take place over two days, with winners progressing to complete alongside some of the game's leading professional players in the pro-am of the 2017 Turkish Airlines Open, the $7,000,000 European Tour event which is a proud member of the 2017 Rolex Series.
Previous winners have been fortunate enough to play with Tiger Woods, Henrik Stenson and Danny Willett.
This year's Grand Finals will once again welcome over 100 qualifying events throughout the world with each of them looking to secure a place in this unique pro-am.
To conclude the once in a lifetime prize, Finalists will be entertained in VIP Hospitality at the Turkish Airlines Open, offering an excellent opportunity to see first-hand some of the game's great players compete for one of the biggest prize funds on the European Tour schedule.
After a successful tournament played last year in Sri Lanka, the Turkish Airlines World Golf Cup 2018, Colombo Series will take place for the second time on the 16th September 2018 at the Royal Colombo Golf Club.