TRANSPORT HUB PLANS FOR KANDY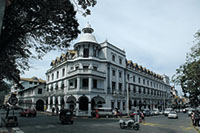 Minister of Megapolis and Western Development Patali Champika Ranawaka revealed plans to launch a transport hub in Kandy incorporating both the Goods Shed Bus Stand and the Railway Terminal.
The proposed terminal will be designed to function like an airport terminal where passengers would be able to travel anywhere via rail or road.
Taking into consideration the increasing traffic congestion in Kandy, the town is to be developed as part of the Strategic Cities Development Project.