LOGISTICS SECTOR
TRANSCENDING TRANSHIPMENT
Compiled by Yamini Sequeira 
GATEWAY TO THE REGION?
Dr. Parakrama Dissanayake assesses Sri Lanka's logistics hub aspirations
Commenting on the latest trends in the diversified sector, Dr. Parakrama Dissanayake says that "it's important to get a sense of how the innovation landscape is shifting to anticipate new opportunities. The key principle in the diversified sector is to ensure that you don't concentrate all efforts and resources in one area; or as the saying goes, don't put all your eggs in one basket."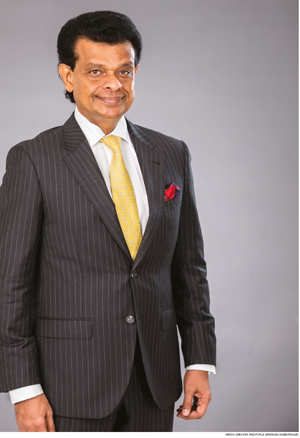 "You should consider not only expanding the market base but also specifically focus on untapped markets with unique potential where a company could have a distinctive edge," he adds.
Dissanayake points out that price plays a critical role and the cost of production needs to be constantly examined to ensure that it is competitive whilst integrating a business with pioneering new technologies. "Technological advancements should go hand in hand with improving the effectiveness and efficiencies of business processes," Dissanayake affirms.
Likewise, he believes that setting and striving to reach major sustainability targets in preparation for a more eco-conscious future is a focus area that ought not to be a mere trend or cliché but the foundation of business.
HUB STATUS Responding to whether Sri Lanka can become a logistics hub, Dissanayake concedes: "The reality is that we have failed to go beyond being a transhipment hub – location is only a comparative advantage whereas what's required is a competitive advantage."
"To graduate from a transhipment hub to a logistics gateway for South Asia, the Middle East and East Africa, it is paramount to ensure that the country improves its ease of doing business ranking combined with a consistent policy framework that facilitates foreign direct investment (FDI). And to attract FDI, we need to ensure that prospective investors obtain relevant approvals in less than a week – we must keep in mind that other competitive destinations also compete for the same FDI," he explains.
Through the Colombo South Harbour, the Port of Colombo is South Asia's only facility with a deep draft container berth that can accommodate 22,000 twenty foot equivalent unit (TEU) vessels. It is among the top 25 container ports in the world and in terms of connectivity, the 11th best.
Dissanayake remarks that "the challenge is to ensure that we bring in capacity as required to ensure optimal service delivery."

GLOBAL TRENDS Furthermore, he emphasises that ports follow the tenets of international trade, adding that "trade friction between leading nations and protectionism, which is gradually raising its ugly head, aren't helping the maritime sector."
"Nations in Asia thrived on the concept of consumption taking place in the West whilst the production of goods and services was outsourced to Asia. This model has come under threat," he explains. He cites two reasons for this – viz. the need to create jobs in the West and higher production costs in Asia.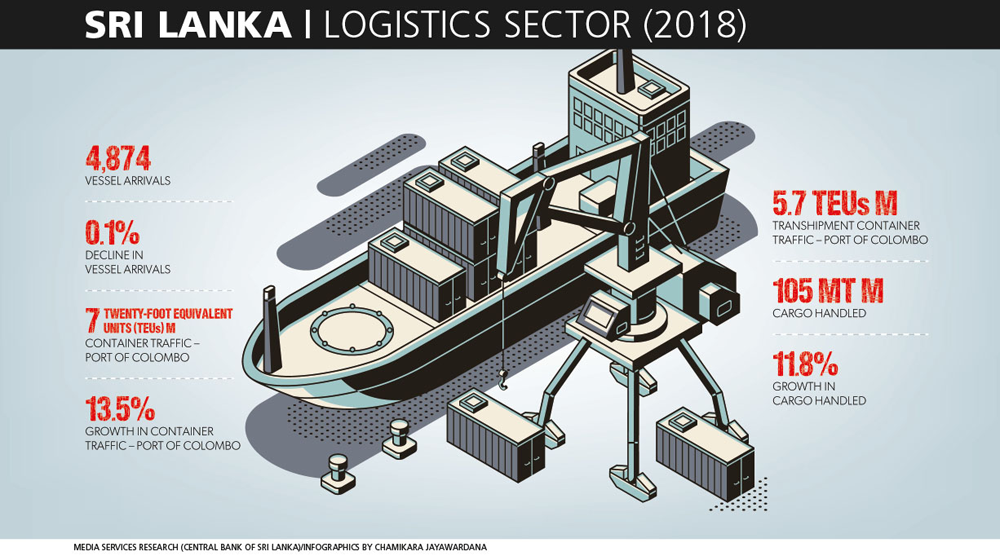 Dissanayake explains: "The outsourcing model has gradually changed to 'nearshoring' and 'reshoring.' In other words, an effort is being made to ensure that manufacturing takes place where there's consumption."
"New developments such as robotic sewing machines, drones and the Arctic sea route can disrupt the present logistical cargo flow. If we look at additive manufacturing, it's been predicted that at a slower rate of adoption, international trade could be 25 percent lower in 2060.
Dissanayake declares that "investment in 3D, if doubled every five years, would make 40 percent of the trade disappear by 2040. The bottom line is that building capacity should be in line with demand. Therefore, a proper assessment has to be carried out in relation to future demand."
KEY INITIATIVES He also believes that five crucial steps would put the economy on track: "The most crucial is the state's responsibility to establish law and order, in order to instil confidence among local and foreign investors."
"There must be a concentrated effort to maintain business confidence with qualified and competent professionals in key positions in important public sector institutions. A robust public sector gives confidence to both local and foreign investors. A conscious effort to improve the ease of doing business is needed along with strong public-private sector initiatives to drive economic growth," he stresses.

And according to him, "the final step has to do with monitoring and evaluation. For instance, sectors that are important for GDP should be driven by a public-private sector think tank where clear goals and objectives are laid down – and they're consistently monitored by developing a report card that's subject to public assessment. This will ensure effective implementation."
BOUNCING BACK As for growth opportunities for the economy in the short, medium and long terms, Dissanayake concedes that "the dent in the economy due to the terrorist attacks is deep and the immediate aftermath is undoubtedly negative."
He says however, that the economy is expected to bounce back: "Once signs of normalcy return in the short to medium term, Sri Lanka will regain its position as a much sought after and fast-growing tourist destination – tourism could deliver major benefits for all stakeholders and accelerate poverty reduction as it's a labour-intensive industry."
"There's also an opportunity to promote Sri Lanka as a knowledge and manufacturing hub for attractive high technology investments, given its unique location and high literacy rate. Ongoing global conflicts between nations could be viewed as an advantage to attract investors from countries that may find Sri Lanka to be neutral and capable of servicing large markets in the region," he adds.
In the medium to long term, Sri Lanka can bolster its logistics services as it has an unmatchable USP – i.e. a location that lies between two major global shipping, aviation, financial and logistics hubs (namely Singapore and Dubai). Another growth opportunity centres on the state's ambitious plans to enhance transport infrastructure in the medium term, which will help the flow of goods.
As signs of normalcy return to the economy, Sri Lanka will be able to progress by expediting the reform agenda that's already in place. This includes the National Export Strategy (NES) and New Trade Policy (NTP), to increase earnings from merchandise and service exports; the fiscal consolidation programme, to improve fiscal discipline and debt sustainability; and the Central Bank's move to adopt flexible inflation targeting (FIT) by 2020 to sustain price stability.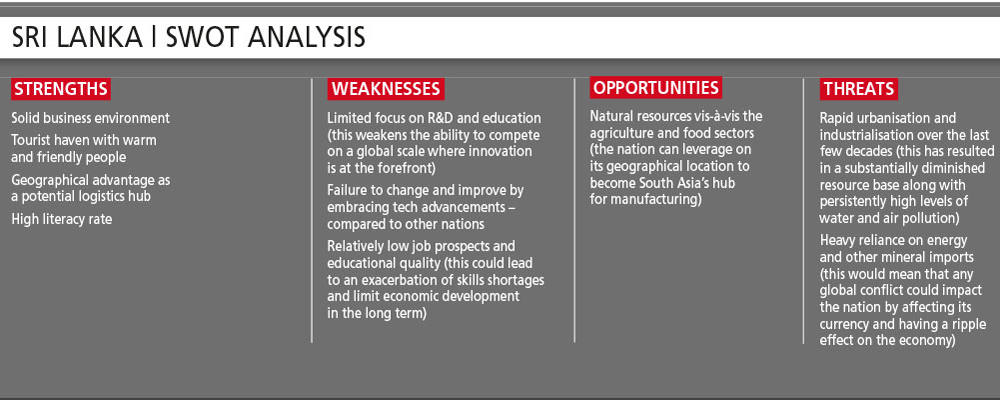 The interviewee is the Deputy Chairman and Managing Director (CEO) of Aitken Spence and Chairman of Elpitiya Plantations