TRAFFIC FINES HIKED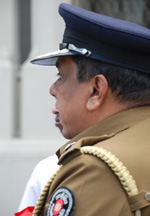 The Finance and Transport Ministries have announced the introduction of a very high fine for seven traffic offences, including driving under the influence of alcohol, driving without a valid licence in possession, allowing a person who does not possess a valid licence to drive, speeding, overtaking a vehicle from the left, violating traffic rules at railway crossings and driving without possessing relevant insurance certificates.
A fine of Rs. 25,000 would be imposed for each of these offences, to curb the number of road tragedies in Sri Lanka that occur as a result of the increasing number of vehicles on the road.
According to official statistics, the number of people killed in road accidents was 2,817 last year, which is about 400 more than in the previous year.