TRADE EXPANSION WITH GSP+ FACILITY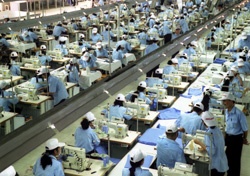 Heads of several of European companies along with the Belgian government have indicated interest in strengthening trade links with Sri Lanka following the restoration of GSP+. Finance Minister Ravi Karunanayake, and Development Strategies and International Trade Minister Malik Samarawickrama met with these dignitaries as part of their official tour of Brussels.
The prevalence of an investment-friendly environment was cited as a positive by these countries, which have reportedly displayed interest in investing in the island.
The Finance Minister also signed an agreement with European Investment Bank Vice-President Andrew McDowell at the European Investment Bank office to receive funding of EUR 50 million for a Greater Colombo Waste Water Management project.