TOYOTA
Toyota Lanka Rewards Top Performing Dealers at Bandaragama Karting Circuit 
Colombo, Monday 01st July 2019: Toyota Lanka (Pvt) Ltd, the sole authorized dealer for Toyota vehicles and spare parts in Sri Lanka recently held its annual dealer convention at the Bandaragama Karting Circuit. The event was held to reward 235 authorized dealers of Toyota Lanka, Toyota genuine motor oil and Toyota genuine spare parts.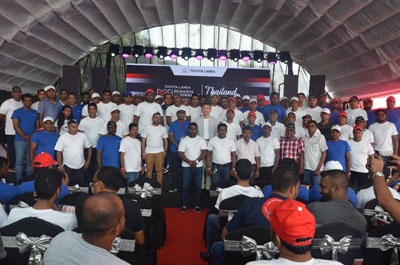 Dealers who had exceptional sales performances in the financial year 2018/19 were recognized and rewarded by Toyota Lanka's Managing Director Shungo Yoshioka and Director/Chief Operating Officer Manohara Athukorale. The top award of the Spare Parts category was won by Lloyds Automart (Pvt) Ltd while Auto World (Private) Ltd won the award for the Service and Spare Parts category. The winners received awards and foreign tours to Europe, Russia, Vietnam and Thailand.
Speaking at the event Toyota Lanka's Managing Director Shungo Yoshioka said, "For global companies like Toyota a trusted dealer network is imperative to reach the thousands of customers worldwide. In Sri Lanka we have established such a trusted network and we firmly believe that the dealers contribute greatly to our overall success. This event is certainly one of the most important annual events in the Toyota Calendar. I would like to thank you for your continued support to Toyota and congratulate you in advance for the victorious journey ahead.
The event which was held under the title "Toyota Grand Prix 2019" saw dealers enjoying a day full of fun, entrainment and challenging races at the Go-karting track in Bandaragama. It also gave them an opportunity to meet with other dealers from around the island. The Toyota Lanka B2B Rewards Programme for 2019 was also launched at the event. This year dealers will have chance to win foreign tours to USA, Italy, Spain and Portugal.
"Regardless of the rising competition, and constantly changing nature of the Automobile Industry, Toyota Lanka has been growing steadily over the past years and we strongly believe that our dealers have a huge role to play in our success. We hope that they will continue to extend the same support to us further in the future. I'm sure that together, we can conquer even higher grounds, deliver value beyond product, services beyond expectation, and drive the extra mile to delight our customers" said Manohara Athukorala – Director / Chief Operating Officer of Toyota Lanka.
One of the highlights of the event was the educating of dealers on how to identify original Toyota spare parts from the counterfeit versions. Dealers were taught that original spare parts are meticulously designed and engineered to align perfectly with each other and work in unison with the vehicle, while fake parts are manufactured without regulations or responsibility. To protest customers Toyota Lanka introduced a unique "Hologram Sticker" where buyers have the ability to scratch the sticker and discover authenticity of the parts. Once you SMS the pin number to 0712 939000, a verification is sent back within just 03 seconds.
During the dealer convention Toyota Lanka also launched its brand new product "Toyota Genuine Engine Flush" to the local market. Unlike other brand names that are available in the market that are common to petrol and the diesel engines, the Toyota Genuine Engine Flush comes in different variants for specific engines. Engine depletion caused by irregular engine oil changes, and poor fuel quality etc. can cause irreversible damage to engines and the Toyota Genuine Engine Flush combats all these issues. Toyota Genuine Engine Flush is non-solvent, ensuring that it does not cause any negative impact to the engine even on very old vehicle. The product is now available in all Toyota Lanka branches and spare parts dealers island wide. For more information please contact Toyota Lanka on 0112 939 000.