TOURISM PROMOTION
Compiled by Ayesha Reza Rafiq
OUR STORY NEEDS PUBLICITY
Dmitri Cooray calls for a beefed-up destination marketing campaign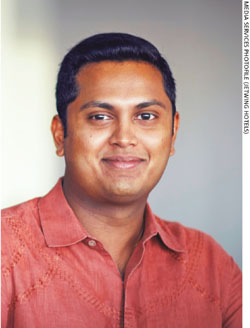 While Sri Lanka continues to gain global attention as a tourist hotspot, and features regularly among the leading destinations to visit on a number of travel and lifestyle websites, it has yet to capture the imagination of the global traveller and establish a strong regional presence in the tourism arena.
Critics and commentators alike say that among the stiffest challenges Sri Lanka faces in rising above other popular destinations and establishing itself as a jewel in the tourist crown of Asia is the lack of a sustainable tourism promotion strategy.
Echoing the sentiments of countless tourism industry leaders, Dmitri Cooray notes that Sri Lanka is blessed with such variety in topography, landscape, culture, natural wonders, and flora and fauna that its emergence as a global tourist hotspot is well-deserved.
"One experience I'd like to highlight is that nature lovers can witness the two largest mammals on this planet within a few hours of each other – blue whales off the southern coast and elephants in Yala or any other national park," he stresses.
Cooray adds that a carefully laid-out and sustainable marketing strategy could transform the country's image within a short period from that of a pleasant but often overlooked destination to one of the most coveted travel spots on Earth.
While the island often features in the informal international tourist dialogue of travel blogs, website recommendations and travellers' guides, its prominence is largely earned from the country's reputation as a cheap destination.
A web search of Sri Lanka as a tourist destination will throw up results such as 'the world's cheapest countries to visit' or '12 of the world's cheapest holiday destinations for 2017' – a far cry from boasting nine UNESCO-listed World Heritage Sites including the Sigiriya rock fortress, the ancient city of Polonnaruwa, and Galle's Old Town and its fortifications, not to mention the largest gathering of Asian elephants in Minneriya.
Featuring prominently as a value for money destination, a high percentage of tourists who land on our shores are budget travellers.
Contrary to growing concerns over this imbalance, Cooray is quick to point out its positives: "Ideally, through proper marketing and positioning, Sri Lanka can play host to a good mix of high and low-spending travellers – a requirement for any established travel destination. Our hope is that the budget travellers of today will return to the island in their later years as high-spending individuals, following their earlier experiences."
But he is emphatic that the country can and must take advantage of its offerings to also attract higher-spending tourists, and match regional destinations such as Singapore, Malaysia and Thailand. This he says will establish a vibrant and sustainable industry, and produce multifaceted economic benefits.
"Sri Lanka is still a developing destination compared to the likes of Thailand, Malaysia, the Maldives, India and Singapore, which are established and where proper positioning has given them an upper hand on the global stage," Cooray asserts.
He continues: "As for products, service standards and what our gem of an island offers, we're on a par or perhaps even ahead of our neighbours. We know the story that needs to be told; but unfortunately, this is not being done. Once the story is out, the island will blossom as a tourist hotspot."
Since the end of the civil war, safety and peace have been among the driving forces that have led to accelerated growth in tourism – the island-nation that was locked in a fierce battle for nearly three decades ceased to feature on negative travel advisories of many countries around the world.
Improving investor confidence, and a gradual increase in world-class product and service offerings together with enhanced infrastructure, are other factors that will enable Sri Lanka to compete effectively.
According to Cooray, the need of the hour is to ensure that auxiliary services up the ante so as to ensure reliable and smooth operations: "Industry regulation is important so that all service providers, both big and small, have a set of rules to follow that provides a safe and peaceful experience for guests."
Regulation may be especially important in the face of burgeoning guesthouses, inns, hotels, and villas, as well as services such as transport and guides. The existing unchecked disparity in services is detrimental to the industry as a whole. Mushrooming tourist establishments also undermine the availability of skilled labour, the dearth of which has long been one of the stiffest challenges facing the country's tourism industry.
If harnessed properly, Sri Lanka's potential as a rising star in the global travel arena can propel the tourism industry to becoming the number one foreign exchange earner for the country, and deliver widespread economic benefits.
The time has come to recognise this potential and work towards achieving it.
The interviewee is the Manager Operations of Jetwing Hotels