THOUSANDS PROTEST IN ITALY OVER MANDATORY LAW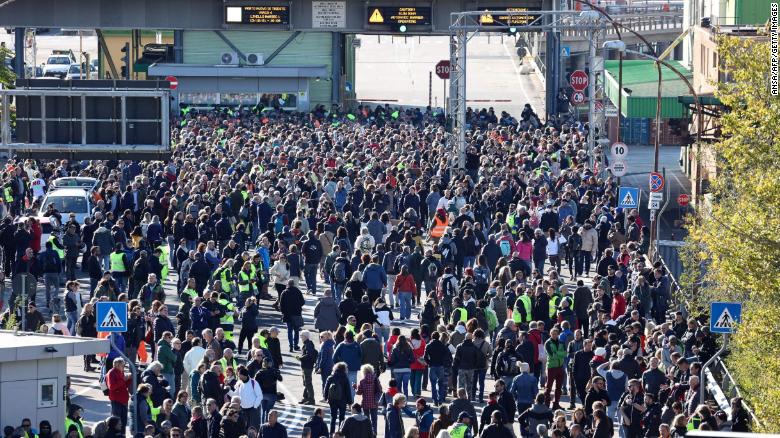 A mandate for all workers in Italy to show a government-issued Covid-19 pass came into force on Friday, triggering protests at key ports and fears of disruption.
Anyone who is on a payroll — in the public or private sector — must have a 'green pass' with a QR code as proof of either full vaccination, recent recovery from infection or a negative test within the previous 48 hours.
Employees who go to work without the pass risk a fine of up to 1,500 euros ($1,730) and suspension without pay. Employers could also face fines if they allow staff to work without it.
The largest demonstrations were at the major northeastern port of Trieste, where labor groups had threatened to block operations and around 6,000 protesters, some chanting and carrying flares, gathered outside the gates.
Around 40% of Trieste's port workers are not vaccinated, said Stefano Puzzer, a local trade union official, a far higher proportion than in the general Italian population.
Regional governor Massimiliano Fedriga told SkyTG24: "The port (of Trieste) is functioning. Obviously there will be some difficulties and fewer people at work, but it's functioning."
"The green pass is a bad thing, it is discrimination under the law. Nothing more. It's not a health regulation, it's just a political move to create division among people…," said Fabio Bocin, a 59-year old port worker in Trieste.
In Genoa, Italy's other main port, around 100 protesters blocked access to trucks, a Reuters witness said.
In Rome, police in riot gear stood by in front of a small rally with people shouting "No green pass." A protest was also to be held in the capital's Circus Maximus on Friday afternoon.
Italian government statistics say that 81 percent of the eligible population has been fully vaccinated and more than 85 percent have had the first dose. Italy has also begun booster shots for those with compromised immunity and who are over 80.
The certificate has been required on long distance trains and indoor venues including restaurants, museums and gyms since September 1.
Pockets of low vaccine uptake remain in Europe. Here's how 4 countries are dealing with them
Pockets of low vaccine uptake remain in Europe. Here's how 4 countries are dealing with them
Prime Minister Mario Draghi's cabinet approved the rule — one of the world's strictest anti-Covid measures — in mid-September,. It is effective until the end of the year.
Some 15% of private and 8% of public sector workers have no green pass, an internal government document seen by Reuters estimates.
The government hoped the move making the health pass mandatory would convince unvaccinated Italians to change their minds, but with over 80% of residents over the age of 12 already fully inoculated and infection rates low, that surge has not materialized.
The right-wing League and Brothers of Italy parties and some unions say that, to address the risk of staff shortages, the validity of Covid tests should be extended from 48 to 72 hours, and they should be free for unvaccinated workers.
But the government has so far resisted those calls. The center-left Democratic Party, which is part of Draghi's ruling coalition, says that making swabs free would be the equivalent of an amnesty for tax dodgers.