VERDANT VILLAS
The true essence of comfort, convenience and luxury in Negombo 'VERDANT VILLAS' by Kelsey Homes

Friday 31st May 2019, Colombo: Enhancing the horizons of Negombo, VERDANT VILLAS by Kelsey Homes is an élite housing development that offers the essence of exclusivity, comfort and serenity.  This housing development is one of the most prestigious real estate projects in the country and strives to raise the benchmark for luxury living in the heart of Negombo.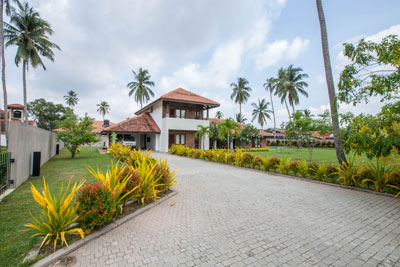 Spanning across 26 acres of lush land, these sophisticated homes will be in eighty five 40 perch plots, with each being a distinct and one-of-a-kind investment and exemplary residential opportunity, where a perch is priced LKR 375,000 upwards.  This development's close proximity to key locations; the island's capital as well as supermarkets, airport, hospitals, hotels, entertainment hubs, etc. makes it well-suited for both small and large families, who seek convenience and a laid-back lifestyle.  The project is a short 10 minutes away from the Colombo – Katunayake Expressway entrance and takes only 40 minutes to Peliyagoda, making it well-suited for busy working professionals who need to commute to Colombo. VERDANT VILLAS is also the perfect home for those who want to offer their families peaceful, private and safe environments where they can relax, unwind and enjoy happy and fulfilling lives.  Further, Kelsey Homes have partnered with HNB, to offer aspiring homeowners with special loans of upto 70% for VERDANT VILLAS.
At VERDANT VILLAS each home comes exclusively designed to offer the perfect combination of luxury and comfort. With the option of selecting many customizable elements such as finishes, fittings and amenities, creating homes that reflect unique style, good ambiance and character.  VERDANT VILLAS has been conceptualized and designed by talented and acclaimed architect, Mr. Upula Madhushanka Chandrakumara in partnership with Surath Wickramasinghe Associates (SWA). Encapsulating the true essence of luxury and splendor, VERDANT VILLAS is the perfect pick for aspiring homeowners looking for a lavish and comfortable home. Filled with striking and versatile spaces, each home can be fine-tuned and customized further to meet the specific needs of each buyer. Given the development's upmarket location and rising land values in the area, each home will also be a worthwhile investment which will generate high returns in the years to come.
The homes within this development are designed to offer residents the very essence of a luxurious lifestyle, and VERDANT VILLAS provides an extensive range of premium facilities including a swimming pool, kids' play area, gym, sauna, steam room, clubhouse, and tennis court; all of which have been constructed in keeping with the highest global standards. Also, the entire gated development is carefully protected with 24-hour CCTV monitoring, ensuring peacefulness and safety for all families who live within the complex. The luxury gated community also offers an abundant array of outdoor spaces, walkways and stretches of lush green gardens, ideal for both children and adults to connect with nature whilst building a warm neighborhood feel.
Commenting on VERDANT VILLAS, Mr. Eardley Perera, Chairman of Kelsey Developments PLC said: "VERDANT VILLAS is an exclusive housing development that was created with the vision of offering the best of luxury, comfort and convenience to all its residents. These homes are excellent investments that will serve as the perfect base for young professionals as well as families who are keen to embrace a high quality of life, in a secure and tranquil environment. Kelsey Homes has an exceptional track record when it comes to building iconic, world-class homes, gated communities and apartments, and we do our best to offer our valued customers unparalleled standards of quality as well as exceptional after-sales support so that they can enjoy their dream home for many years to come, without any worries or concerns whatsoever."
About Kelsey Homes: Kelsey Homes (Pvt) Ltd., is a premier property developer in Sri Lanka, with a rich heritage and a portfolio of over 200 real estate and housing projects. A fully-owned subsidiary of Kelsey Developments PLC (part of Dunamis Capital PLC), Kelsey Homes is an industry pioneer that has delivered an array of living solutions and exclusive developments. Established in 1983, the company is a truly trusted developer known for delivering on its promises. The company is also dedicated to providing customers with high quality, beautifully designed homes within a gated environment and, 24-hour security. e.g.: TEMPLERS SQUARE, Templers Road, Mount Lavinia. As a reflection of the company's confidence and commitment, all homes include a 12-month defects liability period and a 10-year warranty on the structure.