DIVERSIFIED SECTOR
THE SPIRIT OF ENTERPRISE
Compiled by Yamini Sequeira 
TO RISE ABOVE THE RUBBLE    
Sarath Ganegoda senses there's a real need for visionary economic leadership
A salient advantage of a diversified entity with an export business portfolio is that domestic economic conditions would have a lesser impact even in times of low consumer confidence. Since consumption fuels an economy, the prevailing consumer sentiment has led to low domestic consumption, thereby affecting GDP," declares Sarath Ganegoda.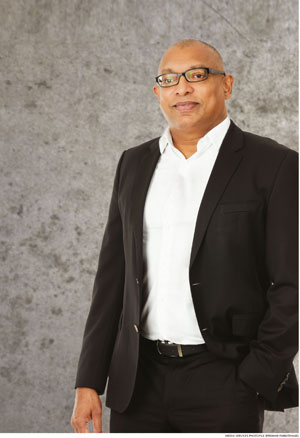 He adds: "However, certain macroeconomic indicators such as the exchange rate, interest rates and inflation are faring well, which denotes resilience."
Ganegoda reflects: "Ours is a small economy at nearly US$ 90 billion. This is not where we should be after so many years of independence. Local companies would be wise to consider expanding operations overseas to remain sustainable in the long term. The size of the domestic market is too small to deliver sustainable growth."
Our corporates have displayed resilience in the past and will do so now as well unless companies that are highly geared find it difficult to service their loans in what is a sluggish economic environment, he points out.
"In the case of the leisure sector, the moratorium on bank loans and interest provided by the government is a good thing; but one year down the line, it has to be paid back. So we need recovery and growth – and we need them sooner rather than later. In the present scenario, companies must adopt a lean cost structure, efficient working capital management and so on," Ganegoda asserts.
DIVERSIFICATION BENEFITS The advantage of holding a diverse portfolio of investments is that you can align them with the short, medium and long-term goals of the organisation.
Ganegoda notes that "short term essentially refers to driving profitability and the liquidity of the business; and in the case of the medium to long terms, ensuring its stability and growth."

"For instance, certain business units may help achieve short-term goals. They may be cash cows, and have short lead times to drive profits and liquidity, but may not facilitate growth in the long run. Some investments however, may not derive immediate profits but will help drive growth and stability," he explains.
Players that have been in the industry for a while have created niches and competitive advantages by developing their capabilities over time. Ganegoda suggests that "those aren't advantages stemming from location but rather, from being in the industry and improving capabilities over a period. We need to develop more location advantages that offer an additional edge."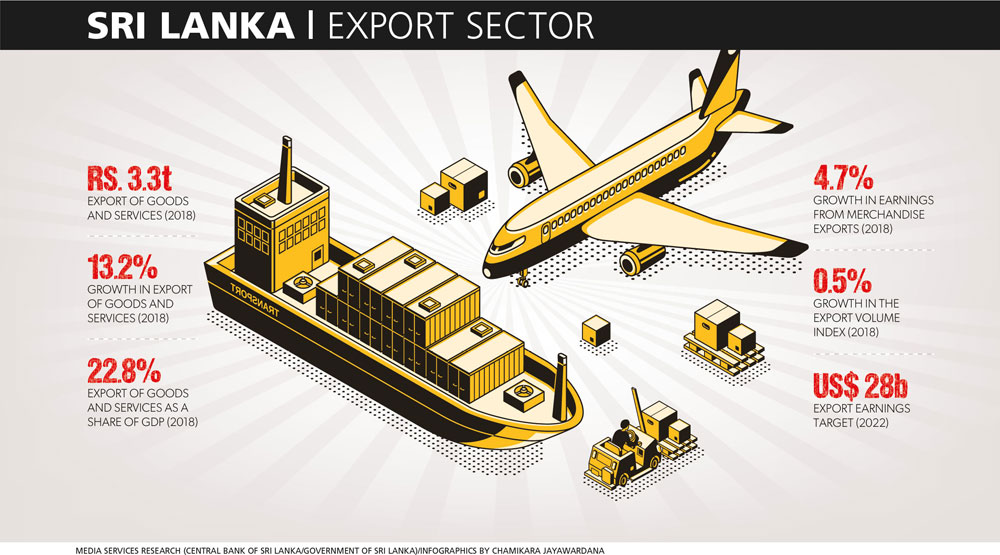 FUTURE CHALLENGES Uncertainty prevails for countries caught in the middle of the protracted Sino-American trade war. However, nations such as Sri Lanka that are in close proximity to China can gain from the trade war by capturing business as a result of it.
Already, some customers for tea, garments and other sectors in the US are shifting part of their business to Sri Lanka. The one stumbling block that prevents Sri Lanka from being a major beneficiary is the cost factor – our cost of production is much higher than in the region in general.
Another critical factor in the export sector is that most export oriented zones are saturated. Ganegoda avers that there's an urgent need to fast track the setting up of new export zones because operating outside of them is a challenge.
Many factories operating outside such zones are reportedly embroiled in conflicts with surrounding communities for various reasons. But if the private sector is hailed as the engine of growth, this has to be facilitated. To obtain licences for land, electricity, transformers and water takes months due to complicated licensing procedures that have been in place for decades.
Commenting on the pros and cons of Sri Lanka's manufacturing sector, Ganegoda remarks: "One key requirement is to improve the ease of doing business, build more export and industrial zones, as well as simplify the customs and licence permits that are needed. Sri Lanka has the required ingredients to build a booming economy but historically lacked visionary leadership that rises above narrow political differences."

MODERNISE OR PERISH Commenting on the plantations industry, Ganegoda notes that labour is becoming expensive and must be viewed in the context of productivity as prevailing costs are high due to low productivity. The plantation model is a British legacy, which may have worked in yesteryear's conditions; but today, the situation is different.
Taking the aspirations of the labour force into consideration and the fact that the younger generation is seemingly unwilling to join the industry, greater dignity of labour needs to be inculcated.
"We need to move from the current labour-intensive industry to an entrepreneurial model. For example, allocate 20 acres to a family, make sure that tea bushes are taken care of, supply fertiliser and replanting materials, and eventually buy the green leaves from them," Ganegoda recommends.
While mechanisation is on the rise in rival tea growing nations, Sri Lanka's hilly terrain makes automation challenging. "Furthermore, for a good cup of tea you need two leaves and a bud, which gives Ceylon Tea its flavour. Hand plucking facilitates this," Ganegoda maintains.
FOREX PROSPECTS Examining other related areas, he feels that tourism can be the nation's number one foreign exchange earner because of the diversity of its offering. The item at the top of Ganegoda's wish list is to improve the business climate – starting with law and order.
He elaborates: "For instance, tourists are harassed on our beaches and roads, as well as at tourist sites. Our tourism product is good but the way it's managed needs to improve and be more disciplined. Once all these aspects are sorted out, the ease of doing business will automatically improve."
In conclusion, Ganegoda cautions that the country is stuck in a middle income trap and needs a visionary leader to extricate it from its predicament. One of the best policy shifts would be for the government to focus on governance, and exit from the insurance, banking and hotel sectors. By privatising state owned enterprises, much of the wealth will be returned to the people by way of more efficiently run entities.
Sarath Ganegoda believes that the way forward involves local manufacturing, and specialising in high quality as well as high value niche products that are world-class.

The interviewee is the Group Executive Director of Hayleys