IT INDUSTRY
Mano Sekaram
THE SILENT REVOLUTION  
It is time for innovation and entrepreneurship to take centre stage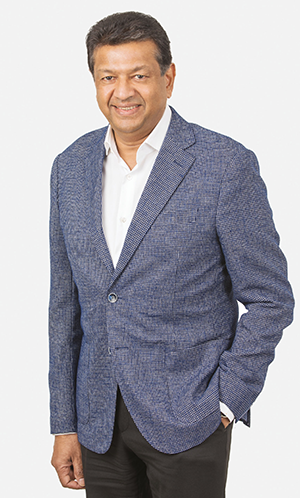 The IT industry today
It's a silent revolution.
Key drivers of the IT industry
Globally, we are in the midst of the Fourth Industrial Revolution – it's all about digital disruption; if you don't have a digital presence, you're a goner.
The local market in a nutshell
There are two types of players vis-à-vis competitive scope: domestic and global.
The upshot of it is…
In a knowledge industry, there's competition for talent so attracting and retaining it is key.
Strengths of the local IT industry
Sri Lanka has positive ingredients – good education and high literacy.
The outcome of this is…
Sri Lankans are also very creative when it comes to innovation and design.
Weaknesses of the local IT industry
We lack innovation, which is essential in a digital economy.
What more can be done about it…
We must move away from a 'conform and comply' education system, to consider more innovation and disruption.
Major challenges facing the IT industry
A low technical graduate output, and the need to position Sri Lanka as a knowledge and innovation hub.
How this will help
Brand the industry since we are the fifth largest exporter.
New prospective customer segments
Our exports have been centred on the US and Europe, but the rise of China and India can't be ignored.
Our response should be…
We must shift our offering from labour to value driven and play globally.
Evolving consumer trends or behaviours
There are many high end customers that we serve  for whom everything revolves around trust, quality, credibility, value and innovation.
Productivity is affecting industrial and economic growth – yes or no?
Yes, our internal productivity is good but infrastructural productivity and social factors affect us.
Such as…
Inefficiencies in schooling, housing and support for women in the workforce.
Corruption is affecting industrial and economic growth – yes or no?
Yes, political corruption is the chief deterrent to 'Brand Sri Lanka' – the fact that our governments don't have credibility is the biggest problem.
Competition drives innovation – yes or no?
No, you have to consistently innovate and move forward simply to survive – it's the only way.
And there's also…
Entrepreneurship must be inculcated from school level.
Key success factors of the IT industry
Innovation to build, entrepreneurship to take it to the market and companies with global reach to fuel growth.
Sri Lanka's competitiveness
Being small, we can build on niche markets by choosing areas to be competitive; we have quality, creativity, AI and innovation to build our reputation.
The IT industry in five years' time
It will grow with or without the government's help.
What is needed
All we seek are predictable policies – and an environment for IT to grow, and attract foreign direct investment (FDI) and capital.
The way forward for the IT industry
The only way forward is to export and build global companies using technology as an enabler.
And there's also…
We must embrace new ways of thinking based on innovation and entrepreneurship.
Action points for industry growth
The private sector has a greater role to play, and private chambers must be able to sign MOUs and implement plans.
And what more?
Instead of a politicised economy, professionals must set policies.
The future of the local IT industry
The knowledge industry of which IT is a part will be the catalyst for economic growth that will take the country forward.
Mantra for success
Being in a knowledge industry, people are primary: you need to build great places to work.
These workplaces are like…
They must display a culture of innovation entrepreneurship, value systems, trust and credibility.
– Compiled by Ruwandi Perera
Mano is the CEO and Cofounder of 99X Technology