THE RULE OF LAW

WILL
'POLEXIT'

HAPPEN?
Poland and the EU are feuding over the former's scant respect for the rule of law – Rajika Jayatilake elaborates
The EU's allegiance to the rule of law and the Polish govern­ment's total disrespect for it has created simmering tensions between the two. This heightened discord is even fuelling talk of Poland follow­ing Britain in a 'Polexit.'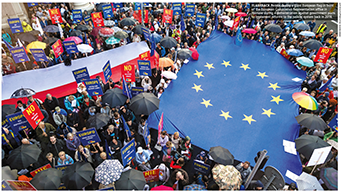 This current abrasive relation­ship is due to Poland's ruling Law and Justice Party's callous disregard for the rule of law. Since coming into power in 2015, the regime has engaged in sweeping legal reforms to control the country's judiciary.
Meanwhile, the rule of law is a fundamental value of the EU as enshrined in Article 2 of its Treaty. Former President of the EC Jean-Claude Juncker once opined that "the rule of law means that law and justice are upheld by an independent judiciary… It (the rule of law) is not optional in the European Union. It is a must." Contrary to these values, Polish President Andrzej Duda had introduced legislation that gives politicians the authority to fine judges or fire them if they don't approve of judge­ments.
This new law, which bans judges from disputing judicial appointments made by the president, has been nationally and internationally denounced for its attempt to suppress judicial independence, harm­ing the process of checks and balances in government, and empowering politicians to control judges.
Protesting this bill at the Thousand Scarlet Robes march, judges from 20 European countries joined about 15,000 Polish protesters to march through Warsaw and show solidarity with their Polish counterparts against mounting pressure on the independence of the Polish judiciary.
Former European Council President Donald Tusk – who was also a former Prime Minister of Poland – says: "We (Poland) are leaving the EU step by step. It's not an exaggeration. This departs from all the norms on which the EU is built."
The Polish regime's disdain for judicial independence continues to infuriate Brussels. It reached crisis point when Poland and Hungary recently dismissed the EU's COVID-19 recovery fund. This was after other member states had agreed to the condition that funding wouldn't be given to countries that have no respect for the rule of law, independence of the judiciary or freedom of expression.
Subsequently, following several days of heated nego­tiations, a compromise was reached with Poland and Hungary regarding distri-bution of stimulus funding.
Nevertheless, the prevailing thorny relationship between the EU and Polish government is raising concerns over the long-term stability of Poland's EU membership.
After decades of Russia's authoritarian rule, Poland became part of the EU in May 2004, and enjoyed enormous economic gains thereafter. As a result, it became a shining global model of post-com­mu­nist recovery.
However, the country has tarnished its international reputation in recent years by flouting the rule of law and engaging in political conflicts with the EU. Yet, despite their government's clashes with the EU, the Polish people are overwhelmingly supportive of retaining their country's EU membership.
Strengthening the nation's mood, Poland's three living former presidents – viz. Lech Walesa, Aleksander Kwaś­niews­ki and Bronislaw Komorowski who had laboured for long to build democracy – wrote a combined appeal to the current leaders imploring them "to stop blackmailing other European Union countries." They added that their bruising conduct "is harmful to Poland and its place in a united Europe."
Polish critics of the govern­ment are further emphasising the need to bring conciliatory tones to the EU relationship, citing Poland's vulnerable geographic position in Central Europe that could eventually toss the country back into Russia's orbit.
As Opposition member Tomasz Grodzki says, "due to its position, Poland cannot be neutral. Either it is in the family of Western civilisation or among the authoritarian dictatorships of the East."
Warsaw's Head of the Euro­pean Council on Foreign Rela­tions Piotr Buras notes: "I cannot imagine Poland outside of the European Union remaining a demo-cratic and liberal country."
Meanwhile, Polish Minister for European Affairs Konrad Szymański believes that a 'Polexit' would be a mistake and sees no added value in breaking away. He observes: "Polexit would solve none of Poland's problems and would create new ones. It would be a wrong response to the real problems of European coope­ration."
He adds that with regard to the single market, trade and digital policies, and the EU's expansion and sanctions policies, "the EU plays a positive role and strengthens Poland's position."
Poland's controversial judicial reforms led to it becoming the first EU member to have Article 7 of the European Union Treaty invoked against it in an extra­ordinary disciplinary action. This could lead to Poland being sanctioned or stripped of its voting rights in the EU at some point.
Irish Supreme Court Judge John McMenamin says: "Without independent judges, there can be no rule of law. The rule of law is something that belongs to all citizens. Without the fabric of the law that applies across Europe, the integrity of the EU can be threatened and undermined."
Konrad Szymański
Polish Minister for
European Affairs