TRAVEL SECTOR
Rukmankan Sivaloganathan
THE JOURNEY HAS JUST BEGUN
The local travel sector can no longer afford to go about its business at leisure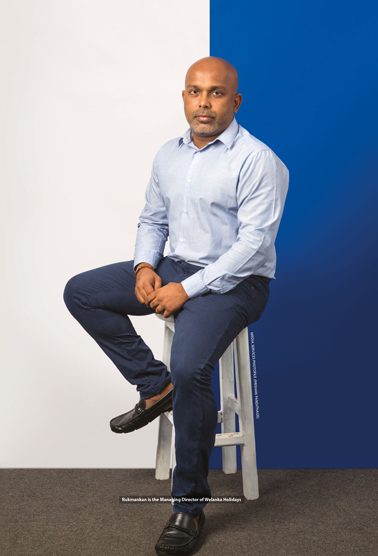 Sri Lanka's travel sector today
It is operating well below its true potential.
Three barriers to sector growth
Lack of connectivity in air travel, room capacity and tourism infrastructure (including simple things like clean toilets and visitor centres).
The future of the local travel sector
Sri Lanka should be positioned as a boutique destination for hotels, shopping and experiences.
Main strength of the sector
Being naturally blessed (it's not hard to sell holidays in a tropical paradise!)
Other positives
Low reliance on the state – the sector is driven by independent private entities; and resilience – local travel sector players continue to invest and operate even in the worst of times.
Main weakness
Unsophisticated market compared to the regional competition.
Other drawbacks
Poor service levels across the board, friendliness being conflated with professionalism, and a lack of creativity in terms of product and service offerings for travellers.
Main threat to the local travel sector
Lack of a coherent national tourism strategy for Sri Lanka.
The local market in a nutshell
Many agents and operators function on a very traditional model – they are in danger of being disintermediated by technology and product or service driven competitors.
The global market in a nutshell
More people are travelling independently (rather than opting for organised tours) and transacting online.
The upshot of this
Travel operators and agencies will only be needed at the luxury end of the spectrum.
Prospective new customer segments
Golfers and Chinese high net worth individuals – as opposed to the current 'shopping tourists.' Also, visitors from Southeast Asia to explore historical Buddhist ties between Sri Lanka and their respective countries.
Local versus regional comparison
In terms of travel technology and luxury sectors, Sri Lanka lags behind the region.
Any positives
Yes, in terms of traditional travel models where agencies are concerned – they are on a par with regional competitors.
Lack of productivity is affecting industrial and economic growth – yes or no
Yes
How so
We throw people at problems and not processes.
Corruption is affecting industrial and economic growth – yes or no
No
Explain
The travel sector isn't generally affected since there is not much rent seeking in terms of obtaining approvals from authorities.
Other issues
Approval process for foreign direct investments (FDIs) in the travel and leisure sector is still opaque or cumbersome.
The future of the global travel sector
It will be technology driven.
Competition drives innovation – yes or no
Yes
Sri Lanka's competitiveness in a few words
There are very low barriers to entry in the travel sector so I suppose it's pretty competitive.
Impact of the digital age on Sri Lanka
Travellers are adapting to technology and service providers should do the same to remain competitive.
Impact of social media on the world at large
Social media has made it so much easier to promote destinations – there are so many user generated images and videos on Sri Lanka on social media.
The upshot of this
Social media promotions are more effective than what the tourism authorities come up with in terms of quality and credibility.
The travel sector in five years' time
It will fare well since Sri Lanka is still a hot destination that attracts a lot of attention.
Who will do well
In the hotel sector, smaller hotels (including boutique properties and budget hotels) will prosper.
Any downside
The same can't be said of the more dated four and five-star properties.
Personal philosophy
Look at niches and compete on value rather than price.
– Compiled by Ruwandi Perera