THE GREEN ECONOMY

FROM BROWN TO BLUE-GREEN
Kiran Dhanapala describes the challenges confronting the green economy including modified skills and job profiles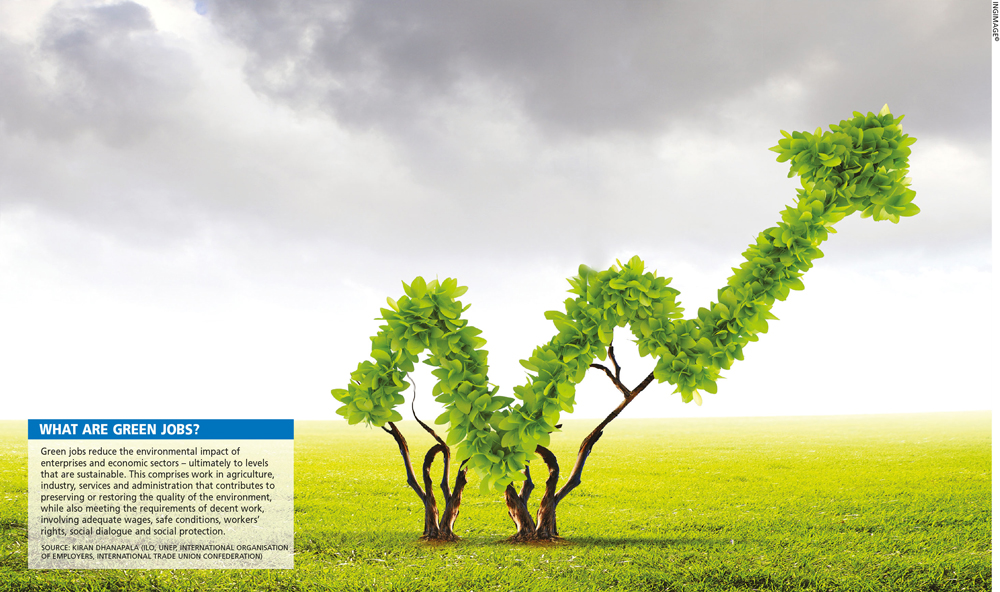 The world is simply not changing fast enough. We are living beyond our planet's resources so transitioning to a new green economy is best for all. This demands not only a mind shift but a transformation in fundamental skills too. The greening of our economies will imply job losses but also new work. How we manage this transition will ensure how well our children live and prosper in the future.
According to a UNEP report published in 2008, there are four expected impacts of green growth on employment: new jobs will be created (e.g. in pollution control devices); there will be some job substitution from brown to green activities (e.g. from fossil fuels to renewable energy); some jobs will be eliminated entirely (e.g. plastic packaging); and many jobs will be transformed and redefined with greening (e.g. modified skills, work methods and job profiles). Greening an economy means restructuring employment or creating new jobs according to changed cleaner needs and priorities. It implies urgent training and retraining at every level, including in vocational and university educational institutions especially for new workers entering the labour force. Employed workers and managers need to re-skill with on-the-job training.

Each country needs to define what green skills are suited to its own context. This requires careful thought, strategising and prioritising for Sri Lanka's needs, and includes taking account of our current profile – an economy with an ageing population and low female labour force participation.
Incentivising females to work means not only providing crèche and childcare facilities, but also (more fundamentally) reducing the 'double burden and care role' within the family by promoting parental leave, cash incentives and flexitime for both spouses. It also means looking at improved care and the regulation of elderly care services across income groups.
This requires consistent policy incentives that demonstrate our economic priorities as green and socially inclusive. It will spur private investment in skills and the provision for green jobs, as well as associated services (e.g. elderly care facilities). And it means government budgets for strengthening skills in science, technology, engineering and mathematics to better respond to future needs.
In Sri Lanka, change is underway but not soon or consistently enough. The government's Vision 2025 aims at creating one million new jobs and raising per capita income to US$ 5,000 a year but this needs sustained action to ensure that these involve green jobs.
The 2018 thematic 'Blue-Green Budget: the Launch of Enterprise Sri Lanka' includes an environmentally sustainable development strategy with jobs in micro, small and medium enterprises (MSMEs), and job market oriented skills training.
It also includes green targets – for instance, all vehicles to be powered by non-fossil fuel sources by 2040 with all government vehicles to be converted to hybrid or electric vehicles (EVs) by 2025. However, electricity is mainly generated by coal, so equating EVs with clean technology is a fallacy unless Sri Lanka commits unequivocally to renewable energy based generation plans.
The Central Bank of Sri Lanka (CBSL) is promoting sustainable banking practices to help banks manage environmental and social risks in the projects they finance, and support businesses to be greener, climate friendly and socially inclusive.
CBSL is developing a road map on sustainable finance for financial sector stakeholders. The Sri Lanka Banks' Association (SLBA) will begin training banking sector employees. This implies project finance and clients facing greater scrutiny in assessing the impacts of activities that are financed, and a greater lack of tolerance for polluting activities.
The Asian Development Bank (ADB) and the Education University of Hong Kong (ADB-EdUHK) surveyed businesses across sectors on greening the economy, and the best way for technical and vocational education and training (TVET) providers to update their programmes for meeting modern economic needs including green skills for green jobs.
There is an urgent need to strengthen the work of TVET institutions and integrate green job skills into an industry needs based training curricula. Recommendations include multidimensional, nonlinear and modular training that will reduce the cost of production, improve productivity and uphold sustainability practices across sectors.