THE GARBAGE ECONOMY

STINKING TO HIGH HEAVEN!
Zulfath Saheed laments the slow progress in waste disposal efforts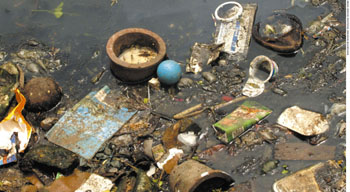 On any given day, Greater Colombo produces up to 800 metric tons of solid waste that usually end up in a garbage dump in the outskirts of the city. But with the societal disposition being one of 'out of sight, out of mind,' citizens tend to wake up to the reality of the problems caused by municipal solid waste only when protests – such as those that took place in Ja-Ela recently – or major garbage dump fires (as witnessed in Badulla) hit the headlines.
The scale of the problem is no doubt immense, and with accelerated development (in the post-war era) comes the added burden of a consumer culture and the corresponding increase in trash. This would mean that dealing with garbage-related issues will require solutions not only in the near term, but also those that cater to more long-term realities.
MEGAPOLIS IMPACT  The government's plans to create a megapolis in the Western Province envision 'comprehensive upgrades, overhauls and enhancements across all sectors.' Meanwhile, environmentalists have urged the relevant authorities to adopt a long-term strategy for garbage disposal as part of the Megapolis development agenda.
Initial plans to transport waste from Colombo to Puttalam under the Megapolis development programme faced stumbling blocks owing to public protests as well as environmental concerns about the recommended site. At the same time, it is reported that a project to dispose of garbage in a sanitary landfill located in Muthurajawela could take an additional two years to be completed.
Earlier in the year, reports revealed government plans to even introduce a 'garbage tax,' in a bid to consolidate the process of public waste collection. This was to be a flat charge imposed through local government bodies on households and commercial establishments, for the collection and disposal of garbage either by private sector service providers or through public-private partnerships (PPPs).
But these plans appear to have been shelved at least for the time being, presumably on account of already existing concerns over taxation policy!

WASTE SEGREGATION Then in November, municipal councils across the island launched a programme to collect only properly sorted solid waste from residences and corporate establishments alike. Citizens were requested to segregate their organic and inorganic waste, which was to be collected separately. Items identified as 'recyclable' included paper, cardboard, polythene, plastic, glass, metal and rubberised items, and coconut shells.
State institutions were also instructed to follow this programme – implemented in line with a concept developed by the Ministry of Local Government and Provincial Councils and the Ministry of Megapolis and Western Development – for solid waste disposal.
REGIONAL MODELS In terms of examples from the South-East Asian region, in addition to implementing garbage separation and recycling programmes of its own, Thailand's Environment Ministry introduced 'plastic bag-free days' for the country's retail sector.
Now in its second year of operation, this initiative has increased its frequency from monthly to weekly and looks to stem the use of plastic bags by 88 million units this year, according to a report by Nikkei Asian Review.
Moreover, to tackle the pervasive issue of residential waste, the city of Surabaya in Indonesia has promoted a household compost programme that has seen the participation of 60,000 homes across the city.
WHAT A WASTE The World Bank (WB) points out that "a generation ago, many cities around the world didn't have comprehensive solid waste management programmes. Organic waste was fed to animals and packaging waste hardly existed. But today, due to growing populations, rapid urbanisation and economic development, managing trash has become one of the most pressing issues facing the planet."
In 2012, WB sounded the alarm in its flagship report titled 'What a Waste,' which predicted a 70 percent increase in urban garbage by 2025. "Municipal solid waste management [MSW] is the most important service a city provides… Despite its importance, reliable global MSW information is not typically available. Data is often inconsistent, incomparable and incomplete," it adds.
The report also observed that "the global impacts of solid waste are growing fast. Solid waste is a large source of methane, a powerful GHG [greenhouse gas] that is particularly impactful in the short term. The recycling industry, with more than two million informal waste pickers, is now a global business with international markets, and extensive supply and transportation networks."
GROUND REALITIES Uncollected solid waste can contribute to flooding, air pollution and public health impacts such as respiratory ailments, diarrhoea and dengue fever, the economic fallout of which only adds to the state's public expenditure burden.
Thus, improving solid waste management – particularly in low to middle-income nations such as Sri Lanka – is an urgent need and may even generate additional employment opportunities that spawn a 'garbage economy.'