THE COST OF LIVING
MORE OR LESS THE SAME!
Inflation drops by nearly four percent in October amid ongoing price hikes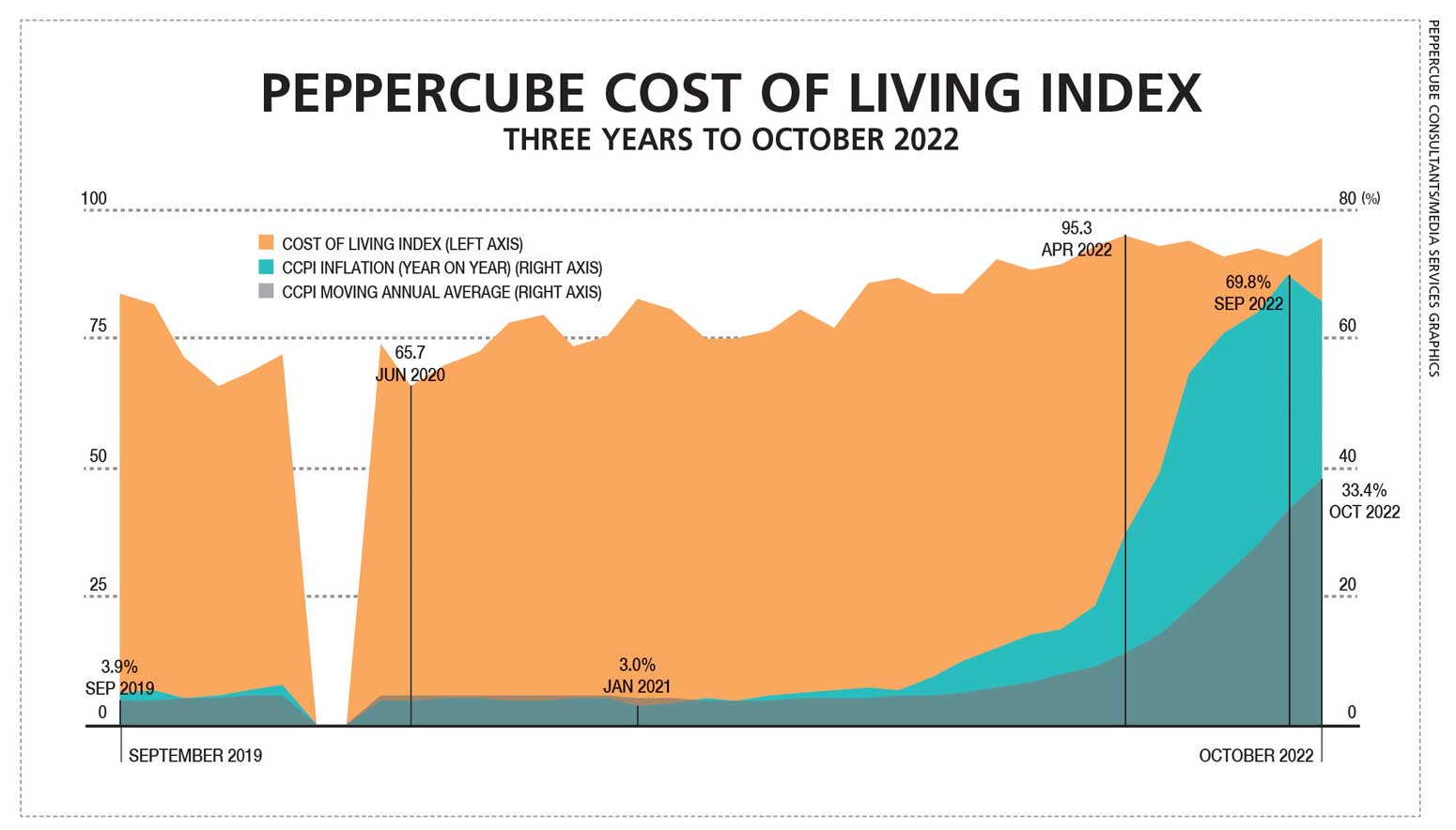 The PepperCube Cost of Living Index (CLI) maintains its tenacious hold on the 90s (as it has since March), registering 94.6 in October. This reflects an increase of 3.4 points from September's 91.2.
Meanwhile, the Colombo Consumer Price Index (CCPI) dropped by a measly 3.8 percentage points to 66 percent in October from 69.8 percent in the previous month. For the record, year on year inflation was a mere 7.6 percent 12 months previously. And this is the fourth consecutive month the CCPI has rested in the sixth percentile.
Consistently since October last year, almost all executives polled have said that the cost of living in the preceding 12 months has escalated 'highly' or 'moderately'… and in October too, 98 percent said no different.
As for sentiment pertaining to the cost of living in the next 12 months, the opinion of poll participants has barely swayed from the eighth and ninth percentiles in the last 12 months. In October, 87 percent of participants said they expect the cost of living to escalate 'highly' or 'moderately' in the next 12 months with little significant change from September (86%).
Fifty-three percent of PepperCube's sample population believe they 'will not have a chance at all' to purchase non-food goods and services or be able to save in the next 12 months. This group has responded in this manner since August.
In regard to the ability to purchase non-food goods and services, in that month a third said they 'will not have a chance,' which population declined to 22 percent in September; but in October, 37 percent of respondents opted for this choice in view of the rising cost of living, their current financial status and inability to save.
FOOTNOTE An index based on a monthly survey, the CLI aims to measure and understand perceptions regarding the cost of living as opposed to reported or official inflation.
– LMD