THE COST OF LIVING
INFLATION UPS THE ANTE
There's still no good news from the indices for a nation in crisis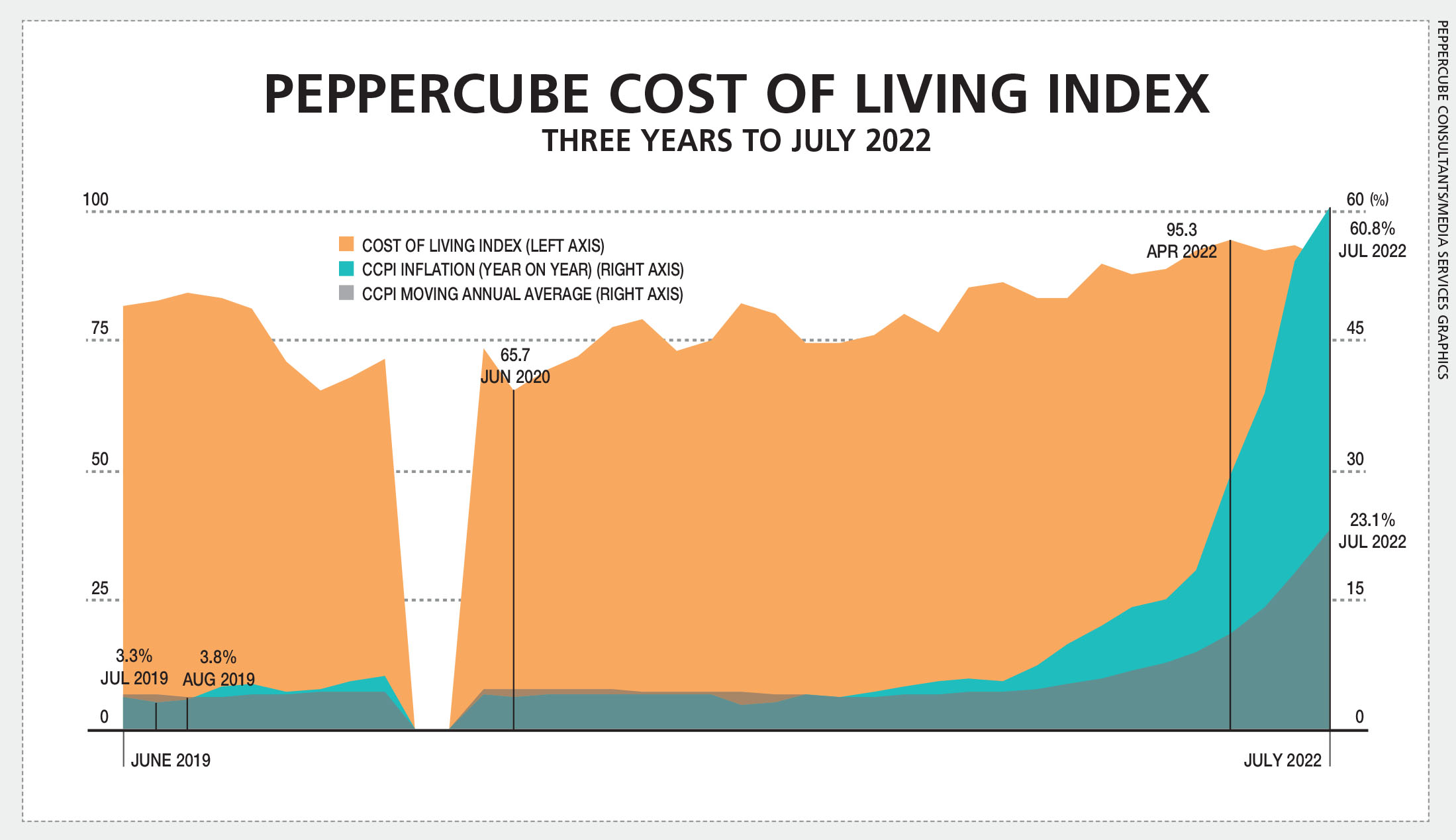 Much as we could do with even a modicum of good news, it is regrettable that the PepperCube Cost of Living Index (CLI) has barely dropped from 93.9 in June. At the time of the survey in July, the CLI registered 91.3 when only a year ago, it stood at a tolerable 77.1.
Meanwhile, the Colombo Consumer Price Index (CCPI) also rose once more in July to 60.8 percent – the second consecutive month in which a substantial increase was recorded and 'improving' on the 54.6 percent year on year in June.
Ninety-six percent of poll participants hold onto the view that the cost of living of their families in the last 12 months has escalated 'highly' or 'moderately.' Since January this year, the sample population has not moved on this position to any notable degree.
Hearteningly, only seven out of 10 (68%) polled said they expect the cost of living to 'highly escalate' in the next 12 months compared to June's 83 percent. Thirteen percent expect a moderate escalation and this is up from June's nine percent.
There is a decrease of four percent in the sample population polled by PepperCube (from 87% in June to 83%a month later) who consider that they 'will not have a chance at all' (56%) or 'will not have a chance' (27%) to purchase non-food goods and services, or be able to save in the next 12 months, considering the rising cost of living and their current financial status.
There is a hint of optimism among pollsters as nine out of 10 (up from 6% in June) antici­pate that their status quo with regard to purchasing power and ability to save will remain.
FOOTNOTE An index based on a monthly survey, the CLI aims to measure and understand perceptions regarding the cost of living as opposed to reported or official inflation.
– LMD